The 6 Best Places to Live in Maryland
Posted by Mitchell David on Thursday, June 17, 2021 at 12:05 PM
By Mitchell David / June 17, 2021
Comment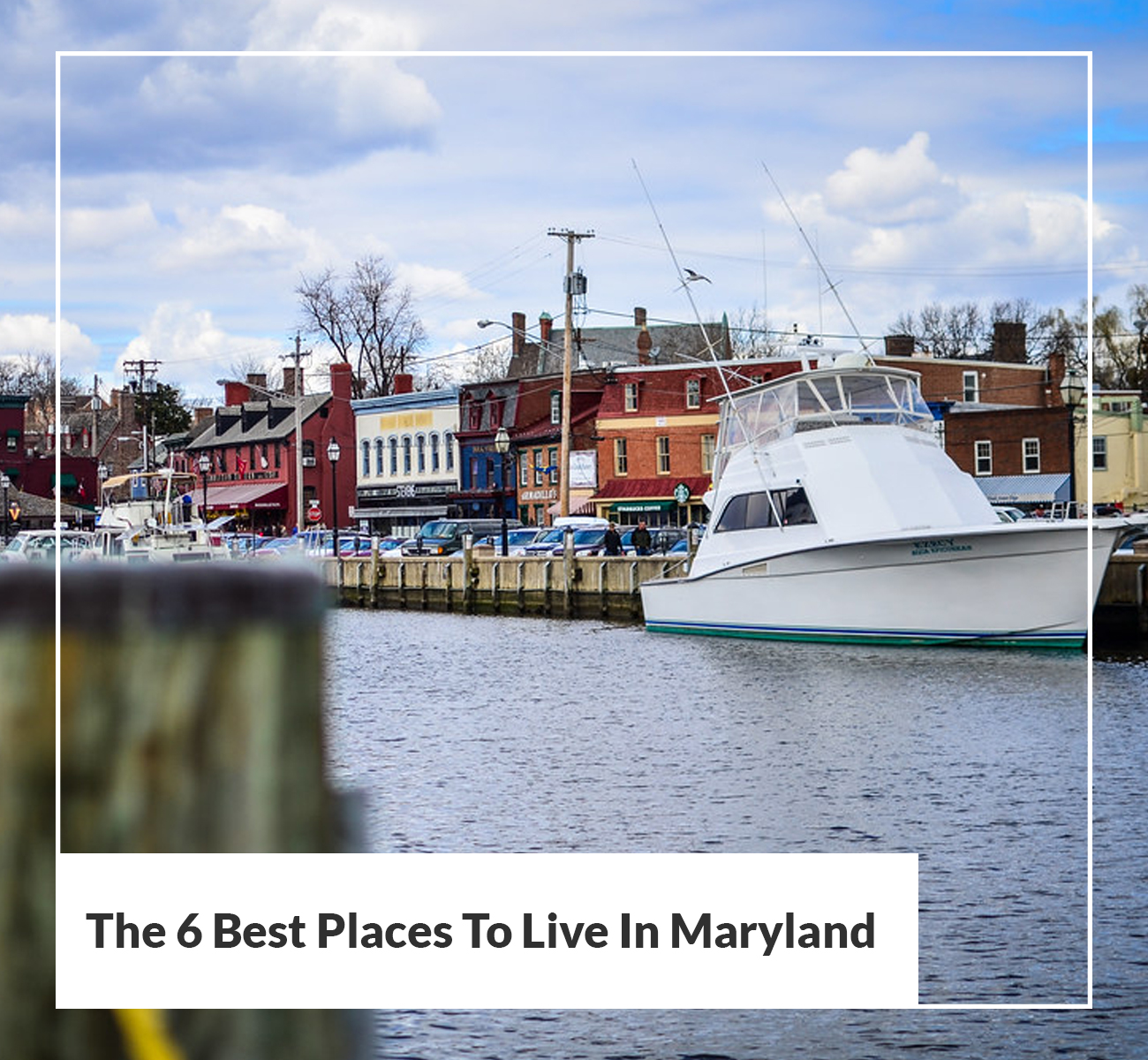 Home to the birthplace of the National Anthem, famous for its blue crabs, baseball and a major historic trading port, Maryland has a lot to offer. Maryland borders Pennsylvania in the north, Delaware as well as the Atlantic Ocean in the east, the Atlantic Ocean and Virginia in the south and West Virginia in the west.
Maryland has one of the lowest poverty rates in the country and is one of the most densely populated states in the nation; Ocean City, Annapolis, Gaithersburg, Hagerstown, Greenbelt and Fredrick are amongst the best places to live in Maryland. As these cities are not per se the cheapest of places to live in the state, they offer a wide range in variety for;
home pricing
transportation
dining options
history
culture
location to surrounding areas of interest
utilities
Want to feel like you are in a resort every day? Then our first choice is brightly shinning into your future!
1. Ocean City, Maryland
Between the Atlantic Ocean and the Isle of Wight Bay, Ocean City features access to miles of beach and a famous wooden boardwalk. Amongst this boardwalk are;
Restaurants
Shops
Hotels
Theme-park attractions
Kayaks
This city has many attractions and amenities available, including an amusement park- The Jolly Roger at The Pier.
Things to do in Ocean City, Maryland:
Ripley's believe it or not
Museums
Tour boats (including some of which travel to the popular, Assateague Island)
Performing Arts Center
Cultural Arts
Water activities
Sports and recreation
Events (such as the annual Sunfest)
Shops
And more! The list goes on with what seems like, endless options for things to do in this wonderful resort-like lifestyle living!
Well known for its high education level, the Worchester County Public Schools District (WCPS) offers the following schools;
Elementary Schools:
Ocean City Elementary
Seaside Christian Academy
Seaside Christian Academy
Middle Schools:
Seaside Christian Academy
High Schools:
Ocean City High School
Stephen Decatur High School
Seaside Christian Academy
Buying in Ocean City; House Prices
The cost of living in this city is on the higher scale, however not impossible! On average the price of a home in Ocean City, Maryland is $357,000.00 and can range upwards of $646,000.00. While the average household income is around, $53,397.00.
Looking to live by the water without the expensive price tag attached? Then our second choice is the right one for you!
View All Homes For Sale in Ocean City, MD >>>
2. Annapolis
Located on the Chesapeake Bay, Annapolis (the capital of Maryland) provides many opportunities for water-based activities such as;
Sailing
Fishing
Kayaking
Paddleboarding
Home to U.S Naval Academy
Among these activities, you will also find, many restaurants, shops, art galleries and museums. Annapolis is also known for high ranking public schools in the district of Anne Arundel County Public Schools as follows;
Annapolis High
Annapolis Middle
Bates Middle
Annapolis Elementary
Eastport Elementary
Georgetown East Elementary
Germantown Elementary
Hillsmere Elementary
Mills‐Parole Elementary
Rolling Knolls Elementary
Tyler Heights Elementary
West Annapolis Elementary
Annapolis is roughly 25 miles from Baltimore and 30 miles from Washington, D.C. and is more than 300 years old, known for its historical downtown core; St. John's College is the third-oldest college in the U.S. making it rich in culture and history.
Buying in Annapolis; House Prices
Annapolis has many advantages and one of those advantages is the, affordable housing prices! On average the price of a home is around $374,500.00; while the average household income is, $75,320.00.
This city boasts over 200 acres of parkland, amongst this large space offers water access, a playground area, over six miles of paved trails, an ice-skating rink and even a dog beach!
Community Parks
Bayhead Park
Bestgate Park
Broad Creek Park
Broadneck Park
Browns Wood Park
Generals Highway Corridor Park
Jones and Anne Catharine Park
Peninsula Park
Truxton Park
Whitmore Park
Wiley H. Bates Heritage Park
Want an urban vibe and city escaping option? Then our third choice is where it's at!
3. Gaithersburg
Located less than 20 miles from Washington, D.C. Gaithersburg is the third-largest city in Maryland. The option to escape the city life of D.C. and raise a family, while still having access to;
Hiking trails
Historical landmarks
A popular shopping/business district
A rapid transit line continuing to be established
Ethnic and economic diversity
Major name brand shops
When it comes to outdoors, Gaithersburg has around 6,300- acres in the Seneca Creek State Park which include, hiking and biking trails and a 90-acre lake! The residents of this amazing city also have access to top of the line employers such as; IBM, Medimmune and Sodexo USA.
With great schools under the, Montgomery County Public School District, families can send their children off to the following schools;
Elementary Schools:
Brown Station
Rachel Carson
Darnestown
Diamond
DuFief
Fields Road
Flower Hill
Gaithersburg
Goshen
Jones Lane
Laytonsville
Thurgood Marshall
Judith A. Resnik
Rosemont
South Lake
Stedwick
Strawberry Knoll
Summit Hall
Washington Grove
Whetstone
Woodfield
Middle Schools:
Forest Oak
Gaithersburg
Lakelands Park
Ridgeview
Shady Grove
High Schools:
Gaithersburg High School
Quince Orchard High School
Watkins Mill High School
Buying in Gaithersburg; House Prices:
With unique neighborhoods and quiet open spaces, Gaithersburg offers affordable living ideal for raising a family. The average price of a home in this city is around, $363,800.00 with an average household income of $78,441.00.

A fan of Civil War history and museums? Our fourth choice is right up your alley!
4. Hagerstown
Located in Washington County and surrounded by distinct stone ridges running from northeast to southwest, throughout the city's core; many of Hagerstown's older buildings were built from this stone. Natural landscape around this city consists of rich, fertile land which is well suited and used for;
Dairy farming
Cornfields
Fruit orchards
Agriculture
This city is well known for its, Civil War sites which include the South Mountain State Battlefield where Maryland's first major Civil War battle took place. And on a lighter note offers a cultural hotspot for those looking to explore;
Dozens of museums
Art galleries
Theatre
The Maryland Symphony Orchestra
50-acre Hagerstown City Park
The Greens at Hamilton Run golf course
Festival events
Of the Washington County Public Schools District, Hagerstown offers many options including a sector of Private high schools as follows;
Antietam Academy
Barbara Ingram School for the Arts
Evening High School
North Hagerstown High School
South Hagerstown High School
Washington County Technical High School
In addition, Hagerstown students also attend:
Boonsboro High School, Boonsboro
Clear Spring High School, Clear Spring
Smithsburg High School, Smithsburg
Williamsport High School, Williamsport
Private high schools
Broadfording Christian Academy
Emmanuel Christian School
Gateway Academy
Grace Academy
Heritage Academy
St. Mary's Catholic School
Highland View Academy
St. James School
Truth Christian Academy
St. Maria Goretti High School
Colleges and Universities:
Antietam Bible College, Biblical Seminary, and Graduate School
Hagerstown Community College, 2-year public community college.
Kaplan University, Hagerstown Campus, formerly known as Kaplan College and Hagerstown Business College.
Kee Mar College, former women's college
Mount Saint Mary's University, Hagerstown Campus, offers Masters of Business Administration (MBA) degrees.
University System of Maryland at Hagerstown, a regional higher education center of the University System of Maryland offering various bachelor's, master's and doctoral degree programs in connection with other state colleges and universities in Maryland.
Buying in Hagerstown; House Prices:
Hagerstown is extremely affordable! With an average price in homes of $151,000.00 and an average household income of, $38,080.00.

Want more recreational centers, community parks and seemingly endless playground options? Then our fifth choice, is just a hop, skip and jump away!
5. Greenbelt
Another Washington, D.C. suburb, Greenbelt is less than 15 miles from the capital city and credited as a historic milestone for urban development, the community is an intersecting pit stop for, four major highways which include the;
Baltimore- Washington Parkway
Capital beltway
This makes it ideal for residents of, Greenbelt to travel quickly to other cities in the surrounding metropolitan area! Within the city, there are two recreational centers, an indoor and outdoor swimming pool, a fitness center, 23 playgrounds, several community parks and of course the 1,100-acre Greenbelt National Park!
Community Parks:
Greenbelt Park
Schrom Hills Recreation Center
Greenbelt Station Central Park
Greenbelt Dog Park
Greenbelt Park South Parking Lot
To name a few! -There are also bordering areas around this city as follows;
Beltsville Agricultural Research Center
Berwyn Heights
College Park
Goddard
Lanham
New Carrollton
Glenn Dale
Served by, Prince George's County Public Schools District (PGCPS) there are three public school's within Greenbelt, the highly rated science and technology program within the Eleanor Roosevelt High School and Dora Kennedy French Immersion school (which serves grades K through 8th-grade students). There are no private schools within, Greenbelt city.
Elementary Schools:
Greenbelt Elementary School (Greenbelt),
Magnolia Elementary School (unincorporated Prince George's County, Lanham address)
Springhill Lake Elementary School (Greenbelt).
There is also a public charter school within the city;
Buying in Greenbelt; House Prices
In addition to the access of nearby amenities and bordering areas, Greenbelt is more than affordable! With an average price in homes of, $191,100.00 and an average household income of, $62,685.00. This is an ideal place to live for a young family, newly established couples or single individuals, and fantastic for retirement age!

More of a hip and historic individual, looking for a skyline? Then our sixth and final choice is very promising!
6. Frederick:
With its close, proximity to Washington, D.C. and considered to be the 'gateway' into western Maryland, Frederick is highly accredited for its large employers including but not limited to;
The U.S. Army's Fort Detrick installation (with approx. 10,000 employees)
Banks
Colleges
Government jobs
Health Care
Insurance
Retail
Tourism
Transportation sector
The Frederick Arts Council is the designated arts organization, for Frederick County. This 'hip and historic' hotspot has a wide range of;
Museums
Shops
Historic sites
Theaters
Art galleries
Bars
Restaurants
Gambrill State Park (located on the ridge of the Catoctin Mountains)
The history Frederick brings, is closely tied to the Civil War and therefore preserved at the Monocacy National Battlefield as well as the National Museum of Civil War Medicine. With over ten art galleries in the downtown core and three theatres all are located, within 50 feet of each other;
Cultural Arts Center, (Weinberg Center for the Arts)
And the Maryland Ensemble Theatre
Frederick city is also the home of, The Delaplaine Visual Arts Education Centre (a leading non-profit organization) and, also the major place to be for the Maryland Shakespeare Festival!
The 10 Best Art Galleries of Frederick:
District Arts
Delaplaine Arts Center
ArtistAngle Gallery
Griffin Art Center
TAG The Artists Gallery
Potters' Guild of Frederick
LisArts.com
GWC Artwork Gallery
Artifacts Glass Gallery
Antietam Gallery

Frederick is also known for its 'clustered spires' skyline of historic downtown churches, making the city stand out with the epic amounts of history it has to offer!
Operating the Public Schools in the area is the Frederick County Public Schools District (FCPS) it is ranked as the number one schooling districts in the state of Maryland for;
Overall student performance
Closing achievement gaps
Student growth
College and career readiness
Second lowest 'drop out' rate in the state
Elementary Schools:
Maryland School for the Deaf
Friends Meeting School
Private K- 8th grade Schools:
The Banner School
St. John Regional Catholic School
Frederick Adventist Academy
High Schools:
Frederick High School
Governor Thomas Johnson High School
Tuscarora High School
Oakdale High School
Middletown High School
Catoctin High School
Brunswick High School
Linganore High School
Urbana High School
Walkersville High School
Private High Schools:
Saint John's Catholic Prep
New Life Christian School
Frederick Christian Academy
Colleges and Universities:
Frederick Community College
Hood College
Mount St. Mary's University, (Frederick County, Maryland)
To list a few of the many things, to do in Frederick; here are some fun and memorable places to start adding to your list!
Carroll Creek Park, Frederick, MD.
National Museum of Civil War Medicine, Frederick, MD.
Monocacy National Battlefield, Frederick, MD.
Flying Dog Brewery, Frederick, MD.
McClintock Distilling, Frederick, MD.
Weinberg Center for the Arts, Frederick, MD.
Community Bridge Mural, Frederick, MD.
Buying in Frederick; House prices:
Sounds pretty pricey, right? Fortunately, buying a home in Frederick is within your grasp and is actually, very affordable! The average price of a home is $242,100.00, while the average household income is, $65,967.00 making Frederick a unique and ideal place to live.
In conclusion, exploring Maryland amongst other amazing cities has been an exciting and unique journey that has shown a variety of amazing places to live, well within reasonable housing prices!