The 6 Best Places To Grab Breakfast In Ocean City, Maryland
Posted by Mitchell David on Thursday, September 9, 2021 at 1:41 PM
By Mitchell David / September 9, 2021
Comment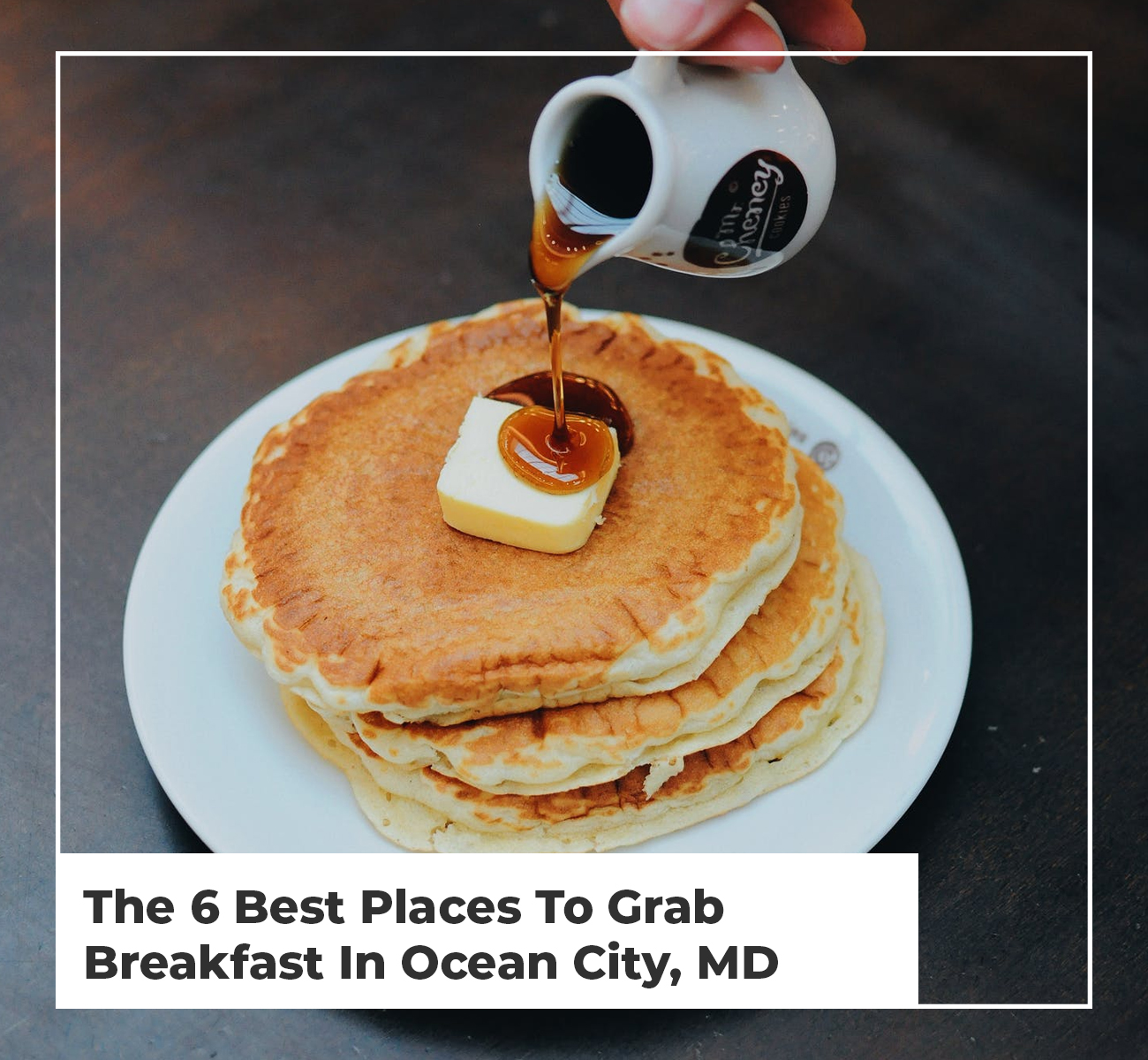 Maryland is home to some of the most picturesque and attractive places in the Country. Yet still, somehow, Ocean City in Maryland is able to stand out as one of the greatest in the entire state – But just why exactly is this vacation hotspot such a marvel? Today, we'll be taking a look at the top six breakfast spots in Ocean City to help you start your day off the right way here.
1. Barn 34

3400 Coastal Highway, Ocean City, MD 21842
As the name would suggest, Barn 34 is none other than a barn-style restaurant located along the Coastal Highway. They are open seven days a week from 8 AM to 9 PM on Tuesdays to Saturdays, whilst closing earlier at 1:30 PM on Mondays and Saturdays.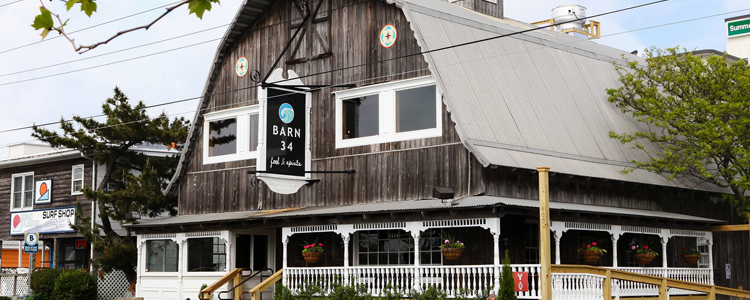 What's on the menu?
The restaurant is extremely versatile, meaning it is likely to appeal to families of all generations including small children and grandparents alike. Home fried egg dishes are available for a lighter breakfast including western omelets, portobello eggs benedict, and sweet potato pancakes. Starting at eight dollars, you can even build your own omelet for a heavier meal to start your day, including layers of cheddar cheese, onions, sausage, avocado, and even crab, though these will incur additional costs.
What's it like inside?
As briefly mentioned earlier, the structure of the building is reminiscent of an actual barn whilst the wooden flooring is accompanied by wooden furniture. There's even a bar along the side for those who plan on visiting here at night rather than early on.
Why should I go here?
Aside from the novelty of a barn-themed restaurant, the menu has quite a few standout dishes on it that make this an unmissable place in Ocean City. Our personal pick goes to the "Big Wave" dish on the specials menu – two eggs, two pancakes, a choice of meat, home fries or grits, and either a substitute half-waffle or French toast, for just 14 dollars.
2. Denny's

6104 Coastal Highway, Ocean City, MD 21842
You've likely already heard of this one. Denny's is an infamous dining chain that exists all throughout the United States, and we'd be lying if we said that the one in Ocean City was anything less than as expected. Their open hours are consistent all week, being open from 7 AM till 11 PM every day.
What's on the menu?
The menu is the same as with any other ordinary Denny's you may visit. Whilst that may not sound exceptional, it is worth noting that means this breakfast spot still serves its' infamous Grand, French, and Kiwi Slams. It may also be worth remembering that Denny's offers a vegetarian breakfast for those with a different dietary preference. For cheaper eating, Denny's still offer All You Can Eat pancakes for prices that average at around 4 dollars in total.
What's it like inside?
Again, the inside of this particular Denny's is nothing special, though it is somewhat larger than what the average restaurant will be. Remember, because of where you are, in the right seats, you may be able to glimpse out at the ocean whilst you start your day with a hot dish.
Why should I go here?
We may have not done much to really sell this one to you, but Denny's is a place that you simply can't go wrong with. The last thing you want is to find yourself meandering around through Ocean City on an empty stomach and the next thing you know it's lunchtime – If you aren't sure what to eat, always remember that there is a Denny's nearby. Another reason to try a Denny's – if you somehow haven't already – is due to their reputation will collaborations in the past. For example, special dishes were temporarily added to Denny's menu to promote the release of the film 'Solo: A Star Wars Story' back in 2018.
3. Happy Jack Pancake House

2504 Philadelphia Avenue, Ocean City, MD 21842
Here we have a breakfast spot that serves as Ocean City's answer to the International House Of Pancakes. Unlike most of our other picks on this list, this is an exclusively breakfast-oriented diner, as Happy Jack Pancake House is only open from 7 AM to 1 PM, though that is still every day of the week.
What's on the menu?
Naturally, this breakfast spot specializes in pancakes, ranging from your standard Old Fashioned and Pecan Pancakes to more acquired tastes such as M&M and Buckwheat Pancakes. They also specify on the menu what dishes count as their healthy options, which includes the aforementioned Buckwheat Pancakes alongside a Sweet Potato flavor. For those who would rather stomach a different type of meal, Happy Jack Pancake House also serves Cajun skillets, waffles, omelets, French toast, and egg dishes amongst others. Pancake prices vary, though on average they will set you back 9 dollars per dish.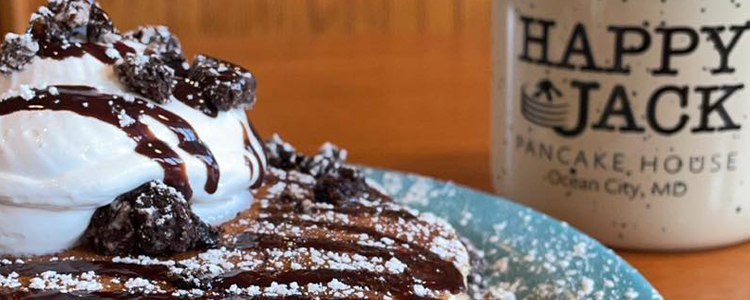 What's it like inside?
This is a very enclosed and quiet breakfast spot inside, meaning that when it is busy, it may be difficult to navigate to the till let alone find a place to sit down. That being said, it is also rather 'open' with regards to the number of windows along the perimeter of the building, meaning that you will get a healthy dosage of morning sun whilst you enjoy your meal.
Why should I go here?
Aside from the inexpensive pancakes and dishes, it's safe to say that Happy Jack Pancake House is a specialist restaurant when it comes to breakfasts due to their exclusive hours. Our personal pick for the best dish on the menu goes to the Loaded Potato Omelet – For just 11 dollars, this breakfast heap is filled with homemade fries, crumbled bacon, cheddar cheese, and Old Bay cheddar sauce. If that's not a way to kick yourself into gear at the start of a long day, then we've no idea what is.
4. Rosenfeld's Delicatessen

6301 Coastal Highway, Ocean City, MD 21842
In the interest of inclusion, we've opted to pick out a spot that will appeal to a less ubiquitous diet. Rosenfeld's specialty is serving dishes that co-operate with a Jewish diet and respect the rules of religion. That being said, even if you are not Jewish, it is certainly still worth reading on as the menu is still varied enough to apply for all. Although they are open every day, hours will vary greatly, with Saturday and Sunday being the only two days which they are open from 9 AM, therefore meaning you may have to find elsewhere to have breakfast during the week.
What's on the menu?
Food can be purchased and ordered directly from, rather unsurprisingly, the delicatessen counter. Meats available include, but are not exclusive to, turkey breast, corned beef, salami, liverwurst, bologna and many more. They also serve fish and salads for those who are perhaps after something lighter. If you are in a hurry to make a breakfast sandwich, Rosenfeld's also sells bagels and bread, meaning that breakfast can be made to order or done by yourself. No accurate pricing information can be given, as the cost will be dependent on the size of the slab cut and the location bought from.
What's it like inside?
Rosenfeld's is rather spacious to accommodate for both the dining area as well as the delicatessen where the meat is cut and sold. There are four locations throughout the United States, so it is unclear what furniture you can expect to be seated on nor what the artwork/painting will be like once inside.
Why should I go here?
There are multiple reasons depending on who you are. Firstly, if you are Jewish, this breakfast spot is easily a no-brainer as it is more likely than not that you will find something that perfectly fits your diet yet is also flavorsome and scrumptious. Secondly, even if you are not Jewish, breakfast from a delicatessen is a niche concept and is most certainly worth a try whilst on your travels through Maryland.
5. Coffee Beanery

9403 Coastal Highway, Ocean City, MD 21842
There's a right way and wrong way to start your day. For some people, the right way is food, but for others, it's drink. If you're the kind of person who simply cannot operate without your morning coffee, then this breakfast spot is just the thing for you. On Fridays and Saturdays this coffee shop is open from 7 AM to 10 PM, though the rest of the week it will close an hour earlier.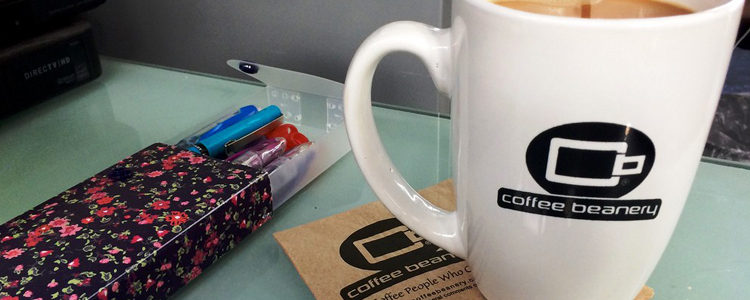 What's on the menu?
As expected with a coffee shop, a variety of coffee is available to be purchased as a drink, but also to be purchased as beans for grinding at home – It ultimately boils down to which experience you prefer or have time for. Depending on the flavor chosen, coffees will set you back from anywhere between 3 to 13 dollars. You can choose amaretto, caramel pecan, vanilla nut, or a variety of others. There is also a bakery in store from which cakes and other savory items can be bought for consumption alongside your coffee.
What's it like inside?
The coffee beanery is rather small yet is also quite accommodating and somewhat cozy thanks to the woodwork and tightly packed shelves. It's quite like your average Starbucks, though being an independent coffee chain, drinks will taste far more original and personally crafted.
Why should I go here?
Morning coffee is a fantastic way to kick your day off the right way. A fresh brew can turn even the worst of mornings around, and a homemade one even more so. The Coffee Beanery has a variety of beans that will accommodate whatever taste a customer desires – Definitely try this breakfast spot if you're about in Ocean City and feel like you need a strong morning pick-me-up.
6. 32 Palm

3200 Baltimore Avenue, Ocean City, MD21842
Last up on the list, we have a spot that accommodates for any time of day whether it be breakfast, lunch, or dinner with its' own specialist meals. 32 Palm is a professional restaurant, and, with their recently renovated menu, they even now have cocktails and other beverages to accommodate those who want to start their day off in a more unique and 'spicier' way.
What's on the menu?
If you're somebody who struggles to settle on a meal decision, this restaurant is perfect for you. 32 Palm's breakfast menu is limited, though each dish is specially catered for breakfast time, nonetheless. A variety of egg dishes including eggs benedict and a classic American breakfast are available for less than 13 dollars whilst griddles and breakfast sandwiches are also available for prices that average out at around the 10-dollar mark. For parents who are on holiday in Ocean City with young children, the kids' menu will accommodate for them including smaller-sized pancakes and traditional French toast.
What's it like inside?
32 Palm is up-to-date with regard to interior furnishing. Tables and aisles are well-lit with windows overlooking the city all around, offering a beautiful view of the morning sunrise. Tables are spaced evenly, and the restaurant is relatively large as well, meaning that it is unlikely you will bump into an issue with finding a place to sit.
Why should I go here?
The limited menu makes this a suitable choice for those who would rather get on and eat than waste time skimming up and down the menu whilst they starve. Furthermore, despite the specialized dishes for each mealtime, the pricing is quite reasonable for a restaurant, further providing an all-around satisfying breakfast experience.

Overall…
Ocean City is a beautiful place and is arguably also the pinnacle of Maryland in general. Much like the area they are in, the breakfast spots mentioned on this list are also fantastic and are easily worth checking out for all the reasons stated.
One final thing to bear in mind is pricing; always remember that it is better to eat cheap than to go big, for your money is better spent on the experiences that Ocean City has to offer.
Looking for Oceanfront Condos in Ocean City, MD? How about an affordable Bayside Interior Condo? You've come to the best website for searching Ocean City, MD Real Estate. Now it's time to choose the right Realtor to meet your needs. Let me put my knowledge and experience to work for you.
View All Homes and Condos For Sale in Ocean City