Easter Events- Ocean City, MD Area- 2019
Posted by Mitchell David on Monday, April 1, 2019 at 10:00 AM
By Mitchell David / April 1, 2019
Comment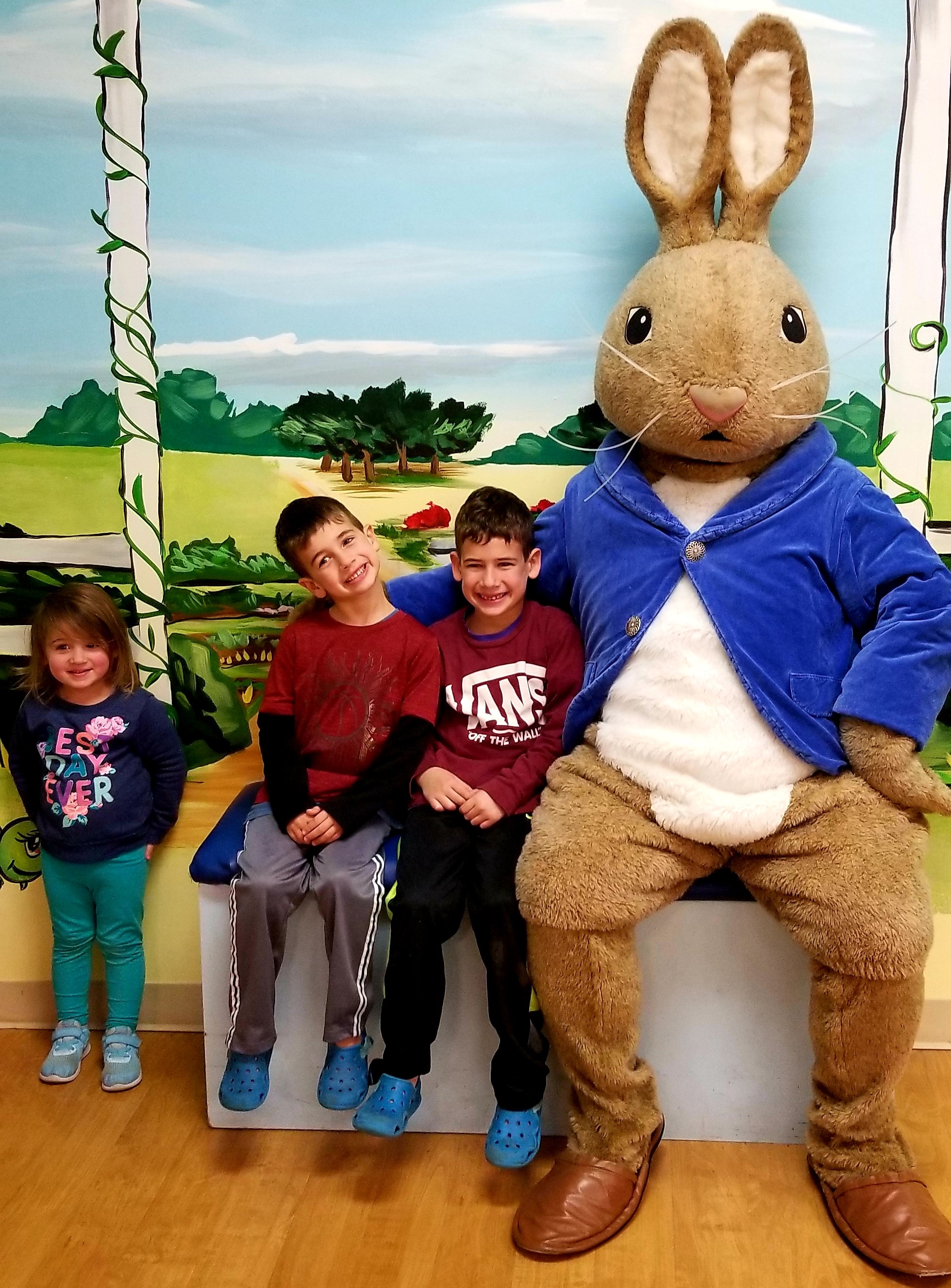 Picture credit: The Children's Book Garden's Annual Tea with Peter Rabbit. My daughter isn't a fan of Peter Rabbit… yet!
Are you ready to hunt, hop, and dive into the EASTERn Shore?! We want to share a few family friendly Easter events in Ocean City, Ocean Pines, Berlin and Willards.
April 11th 10:30am - Ocean Pines Library (11107 Cathell Rd, Berlin, MD)
Who doesn't love a sweet Easter storybook! Bring the kiddos, snuggle up on the floor, and enjoy an Easter Storytime! Free Event, For ages 2 to 5.
April 13th 8:00am- 11:00am - Ocean Pines Rec Department (410) 641-7052
Join the Easter Bunny for a delicious breakfast feast of pancakes, sausage, scrambled eggs, assorted fruit, pastries, milk, coffee, and orange juice! Pricing for this event is $7 for ages 11 and up, $5 ages 4-10, and free for ages 3 and under! Bring your cameras!!! For an additional $5, photo opportunities with the Easter Bunny will be available! This will be a great chance to get dressed up for a family Easter photo!
April 13th 2:00pm - The Iron Horse (7485 Market St, Willards, MD)
Grab your Easter Baskets and join The Iron Horse for their 4th annual Easter Egg Hunt! I keep hearing there will be a special visit from the one and only Easter Bunny! This place is worth the drive! If you have never visited The Iron Horse, here's your chance to visit a cute little restaurant right next to the train tracks! Serving delicious food, family friendly outdoor picnic table seating, and the best owners! If you don't believe me, check out their facebook page. Its guaranteed to make your mouth water!
April 14th 1:00pm- 3:00pm - Ocean Pines Community Center (235 Ocean Parkway, Ocean Pines, MD)
Have a creative child who loves arts and crafts? Join Ocean Pines for their Easter Bonnet decorating festivities! I'm talking about feathers, pom poms, ribbon, and foam eggs, just to name a few, with an included hat! All craft materials will be supplied for the charge of $10 resident / $12 non-resident. This is a pre-register event, so make sure you call (410) 641-7052
April 19th 5:30pm- 8:00pm - Ocean Pines Sports Core Pool (11144 Cathell Rd, Ocean Pines, MD)
Let's shake the traditional Easter Egg Hunt up a little! Ocean Pines Sports Core Pool has the kids diving for eggs filled of treasures while jamming to a DJ! Free swimming in between age groups! This even is for all ages 11 and Under All kids under 6 must have an adult in the pool with them, so parents don't forget your suits. $6 swimmer/$3 non swimmer
April 20th 10:00am- 5:00pm - Main Street, Berlin, MD
Berlin Spring Celebration! Have you ever visited America's Coolest Small Town? Here's a great chance to visit when Main Street is lined with vendors, arts and crafts, games, and we could never forget all the wonderful shops of Berlin! Make sure you stop by Island Creamery for a sweet treat! Their homemade ice cream is definitely a family favorite of ours!
Rayne's Reef, located in the heart of the celebration on Main Street, will be serving up their Pancake Breakfast with a special guest… the Easter Bunny! Call quick to reserve your spot for the 8am or 9am seating! (410) 641-4775
April 20th 11:00am- 2:00pm - White Horse Park (235 Ocean Parkway, Ocean Pines, MD)
Ocean Pines puts on quite the Easter Celebration!!! I am talking about face painting, bounce houses, pony rides, games, arts and crafts, food, Easter bonnet parade, and egg hunts! Bonnet parade and Easter Egg hunts are open for children 10 and Under! The schedule is tentatively 1-3 yr. olds starting the hunt off at 11:30am | 4-6 yr. olds 12pm | 7-10 yr. olds at 1pm. The bonnet parade will be overlapping the egg hunt starting at 12:30 pm!
April 20th 1:00pm- 3:00pm - 125th St. Northside Park, Ocean City, MD
Easter Bunny Fun Shop! These are the parties my wife grew up on! Easter egg hunt, arts and crafts, face painting, entertainment, game booths, egg dyeing, and refreshments! Let's not forget who will be stopping by to join in all the fun too…. the Easter Bunny! Registration required (410) 250-0125
Plan early… please click the links to confirm dates and times.
Happy Easter from the David Family!!
P.S. Adults Hunt for their perfect property in Ocean City, Berlin, or Ocean Pines on BeachLifeOceanCity.com