The Top 5 Golf Courses In And Around Ocean City, Maryland
Posted by Mitchell David on Friday, December 17, 2021 at 5:44 PM
By Mitchell David / December 17, 2021
Comment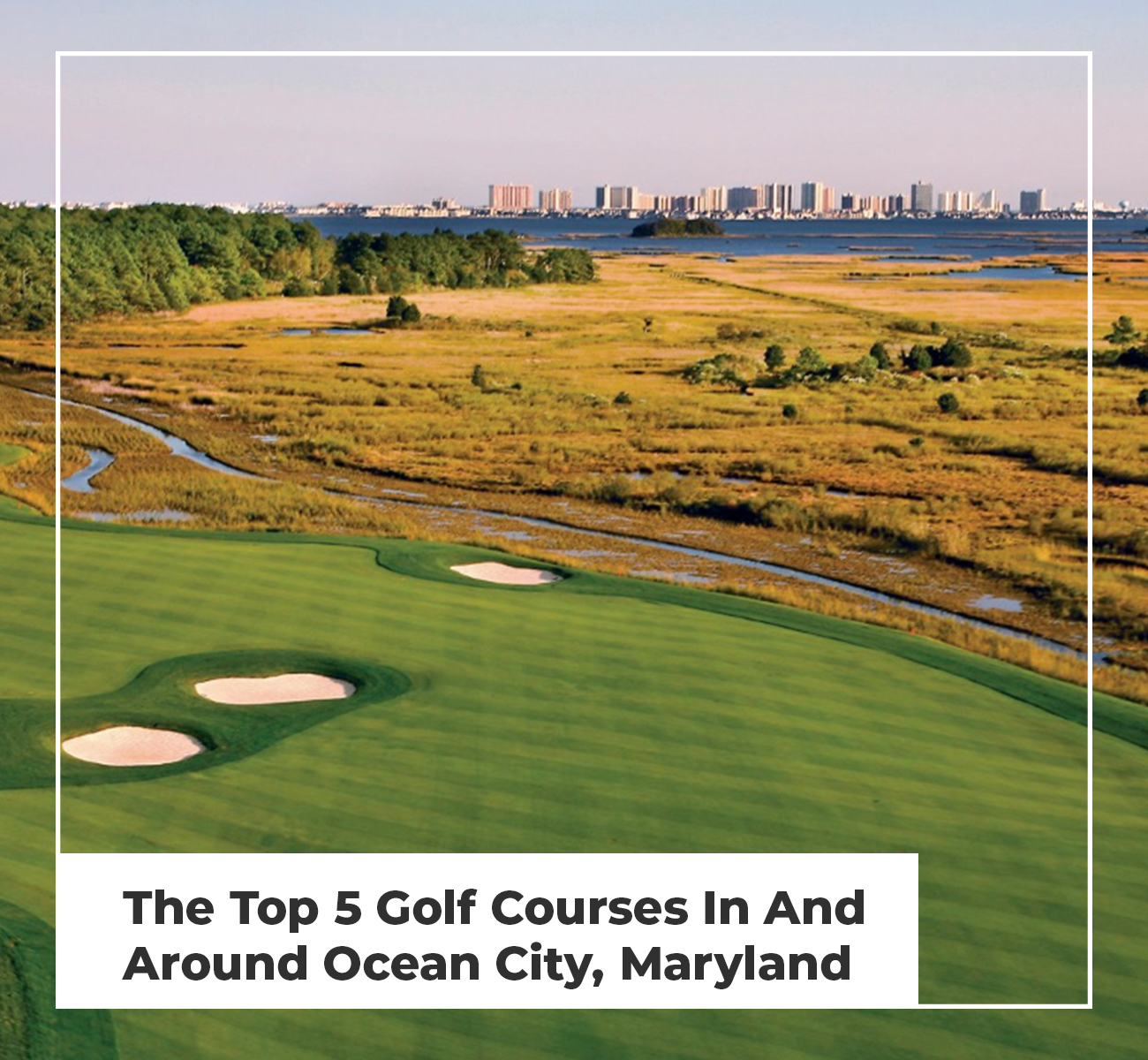 A favorite and timeless sport and activity for many, golf has become something that is played both professionally and casually. It's such a sport that the likes of Tiger Woods is able to successfully make a career and his own signature golf courses out of it whilst your average family can enjoy the relaxing pastime and kids can even partake in the mini-golfing sub-sport that has since spawned from it.
Bringing the sport of golf together with the magnificent island known as Ocean City, we're going to take a look at Maryland's finest golf courses and discuss why you should give them each a visit.
1. Old Pro Golf Club
Built during the 1960s, this golfing center has withstood the test of time and even expanded, now hosting four outdoor golf courses as well as two miniature indoor courses. The courses are all spread out in such an equal way that they effectively cover the entire length of the island.
Depending on your party, you'll likely be enticed to a certain course due to its theme. For example, parents with young boys will likely be veered towards the Prehistoric Dinosaur or Caribbean Pirates golf courses, whilst those with a larger family may instead choose to play at the Temple of Dragons or Renaissance Castle courses; both of which are only open for the summer reason.
Old Pro Golf Club is also a great company to golf with due to its affordable prices. If you're on a budget or just looking to save money in the lead-up to a big event such as Christmas or birthdays, you can play one game at one course for just $10 each or have access to that course all day for just $15 each as well.
*Disclaimer: Prices are subject to change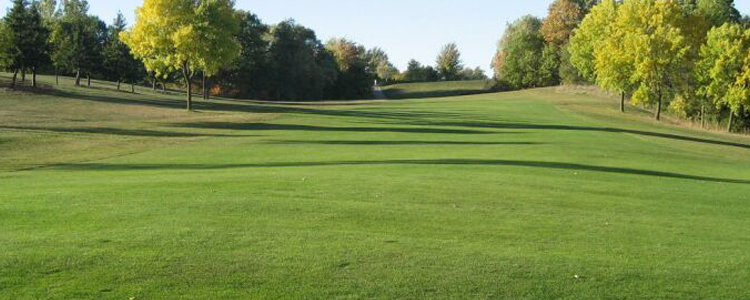 2. Embers Island Mini Golf
Our next pick goes to a course that is far less kiddie-based and has also won over the praises of middle-aged and elderly couples alike.
Customer testimonials often speak of how clean and tidy both 18-hole golf courses are, making it a safe and enjoyable environment for all to enjoy a round of golf. The generally positive atmosphere is also boosted and carried by the friendly and welcoming staff who are also happy to take photos for you to keep as mementos or store them in albums.
Embers Island Mini Golf also features multiple waterslides that twist and twirl, so you can get a few thrills in as well as your round of golf. Both of the golf courses look beautiful when lit up at night, with mini ships, mini mountains, and other bite-size decorations surrounding the place.
As with Old Pro Golf, Embers Island is another relatively inexpensive way to go about the golfing experience, as prices range from $10 per play or $16 all-day per course.
*Disclaimer: Prices are subject to change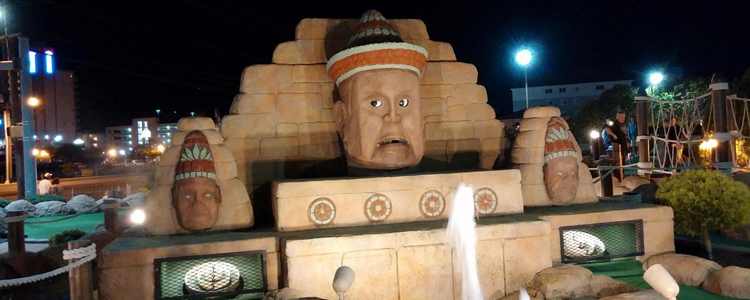 3. Eagle's Landing Golf Course
Stretching slightly out of Ocean City, Eagle's Landing Golf Course is technically located in Berlin, Maryland.
Unlike our previous two picks on this list, this is a proper golfing range rather than a mini-golfing course. There are nine beautiful lakes and ponds that the course swerves around, making for a scenic view with each swing at the ball that you take. Aside from the visuals, there's also the soothing sound of the sea to comfort and relax you even further. As a matter of fact, such relaxing sounds can even improve your performance!
Eagle's Landing also features a clubhouse where you can socialize and grab a bite to eat during your session. The food is known to be both delicious and affordable and is the perfect highlight to a day of brushing up on your golf swing.
Depending on the day and time of a session, tee times will vary in cost. However, on average, 2-player sessions during off-peak hours will cost $45 per player.
*Disclaimer: Prices are subject to change
4. Ocean Pines Golf Club
Another professional and proper golf course, Ocean Pines is designed so that golf can be played "the way it was meant to be," in the words of designer Robert Trent Jones, Senior.
Sure, you can book your own private session and play your course at your own pace if you would like, but at Ocean Pines, there's something even greater that you can do, and it's exactly why so many people come here: Tournaments. Compete with your own group or pitch them against rival groups in championship-level golf and find out just who is the best golfer amongst all of you. The professional PGA staff has hosted golf tournaments on Jones' courses for decades now, ensuring both a professional and memorable experience.
Depending on the time of day and the time of year, course rates can either be more or less expensive than Eagle's Landing. Morning golf during late winter and early spring, for instance, will set you back as little as $35 per person, whilst weekend golfing during the summer season can reach as high as $80 or even $95.
*Disclaimer: Prices are subject to change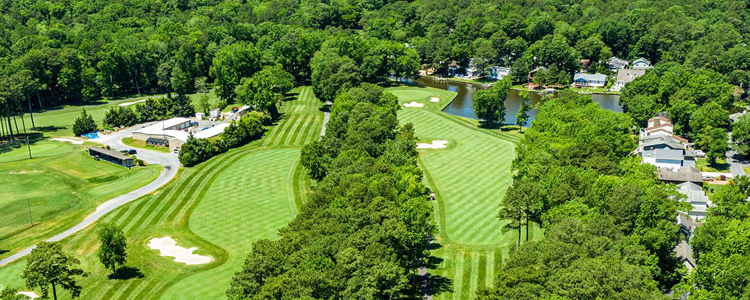 5. Bayside Resort Golf Club
As the name suggests, our final golf course on this list is located by the bay, making it the most scenic and photogenic one of all five. Once again, however, it should be noted that we are going slightly farther out since Bayside Resort is located in Delaware as opposed to in Ocean City.
Jack Nicklaus, the course designer, specifically designed the course to be both scenic and challenging in order to put golfers through their paces while also still enjoying themselves. For example, while some of the golf holes are quite open and are warmed by the sun, other holes are covered a great deal by tall trees and some even stretch on through marshland.
Bayside Resort Golf Club is so beautiful and open that it is a popular destination for hosting special events such as weddings and vow renewals here.
Golfers under 15 years of age get to play on the courses for free, while adult sticks can climb a little higher than most at an average of $59 per player. Though that may be somewhat of a premium to pay, the extravagance of this golf course does indeed justify the price of admission.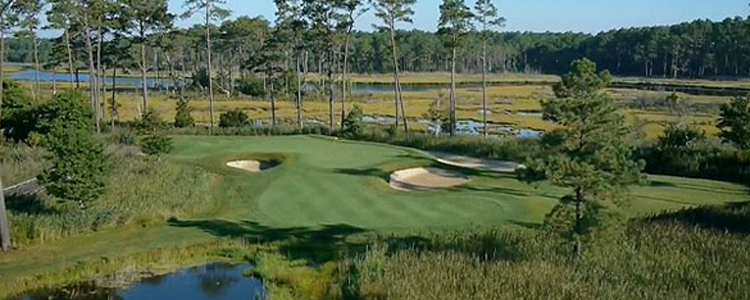 *Disclaimer: Prices are subject to change
Overall…
To live in Ocean City alone is an absolute delight for many and being able to get up early each morning to have fun on a golfing range is a sheer luxury that many people dream about.
Of course, you should always be wise about how you spend your money, but being home to such quality experiences, Ocean City is worth every dollar that you're willing to put into it.
We sincerely hope that our list has convinced you to check out at least one of these amazing golf courses. If not, well then, we'll just have to catch you next time!
Looking for Oceanfront Condos in Ocean City, MD? How about an affordable Bayside Interior Condo? You've come to the best website for searching Ocean City, MD Real Estate. Now it's time to choose the right Realtor to meet your needs. Let me put my knowledge and experience to work for you.