8 Home Improvements That Could Decrease Your Home Value
Posted by Mitchell David on Saturday, January 22, 2022 at 1:35 PM
By Mitchell David / January 22, 2022
Comment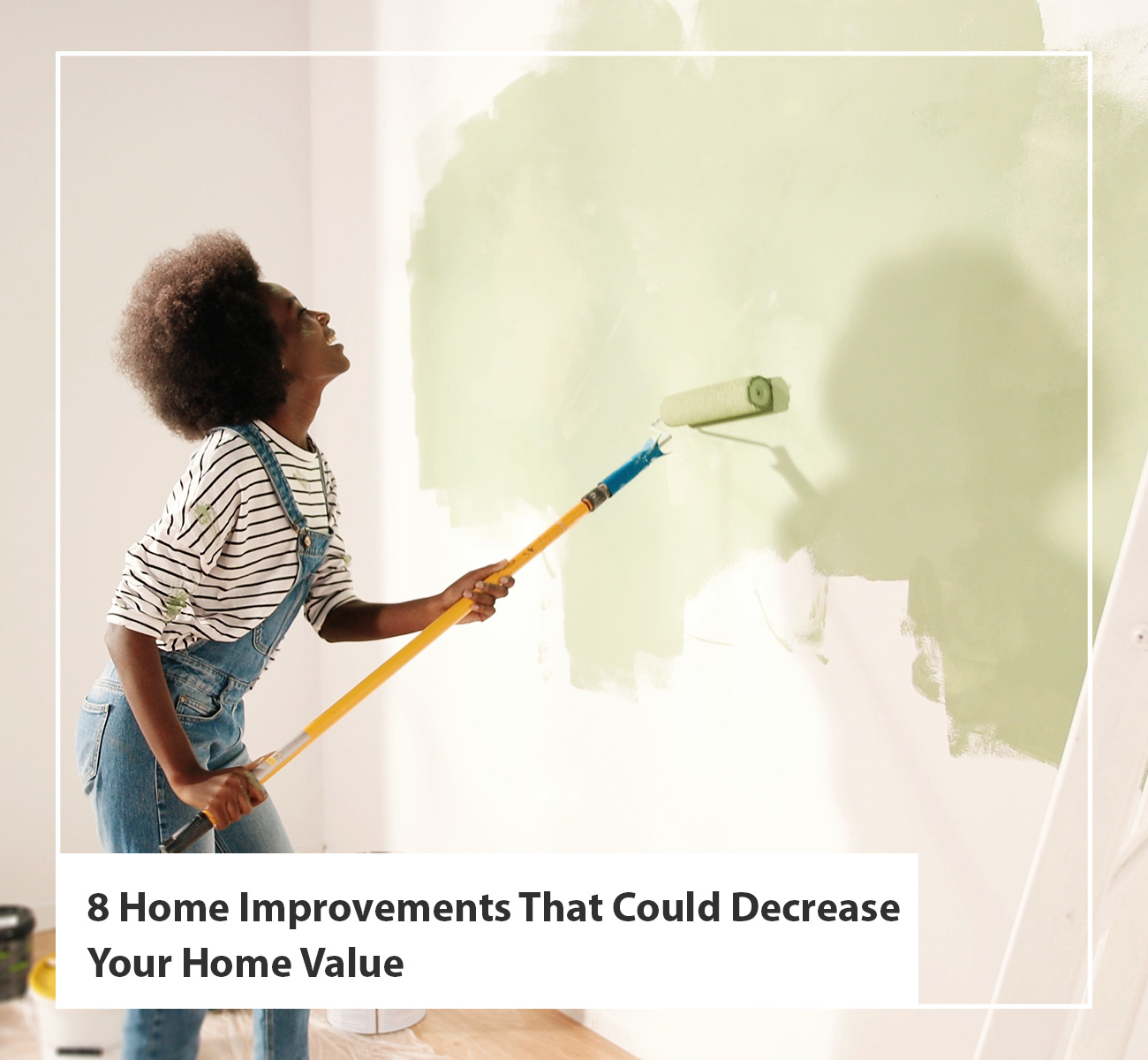 Many home improvements can add value to your property, but some could actually decrease its market value. Most homeowners embark on renovations and enhancements not with the idea of harming their home's potential resale price in mind, but they should consider what prospective buyers would think about these changes first.
Though many times it is a seller that is focused on renovations in order to sell their home for a higher amount, these tips can also apply to purchasers, especially ones who are considering buying a fixer-upper.
Read along with this article to find out which renovations might not be as beneficial as you once thought and how to ensure you keep the most resale value possible in your property.
Garage Conversions
While you might assume adding more living space to your home would make it more valuable, some types of conversions, such as turning your garage into an additional rec room, can actually bring down the value of your home.
Exception:
An exception to this renovation would be properties that have plenty of parking space in their laneway, on-street parking options or other buildings such as drive-sheds. In this case, converting a garage to an additional bedroom, office or living space could then add substantial value.
Alternative:
The average homeowner would be better off building an addition or finishing their basement before considering a garage conversion, which can be very costly and can bring down the value of your home.
Solar Panels
While solar panels can help reduce your energy costs and carbon footprint, they could also decrease the value of your home. Because they require a major installation and can sometimes affect the look and feel of a home, homeowners should carefully consider whether their property would be better off without them.

Exception:
If you do decide to install solar panels, make sure they blend in with your home's exterior and that their installation does not come at the expense of your roof or other aesthetic features.
An exception would also be if you owned substantial amounts of property and are able to set the panels away from your house, thus not detracting from the look and function.
Alternative:
An alternative to solar panels is investing in solar-powered features such as lights or hot water heaters. These generally are smaller and can be hidden so as to not alter the aesthetics of the property, all while still helping you save money and conserve energy.
Building Space for Your Hobby
Hobbies are a great way to spend one's time, however, dedicating a large amount of space in your home for your hobby may end up costing you when it's time to sell. Rooms specifically dedicated to only one function, such as a home gym or woodworking shop, will only add to the value if potential buyers have the same interest.
Specific hobby rooms encompass everything from home theaters, themed children's rooms, the increasingly popular, "She Sheds", and more. While these may seem exciting and enticing, they can be a major deterrent for prospective buyers.

Exception:
An exception would be if your home is large enough to allow for a designated hobby room without sacrificing other spaces such as a spare bedroom or home office. It is also important that you do not permanently alter the structure of the room when designating it, so if a prospective buyer would like to convert it to something else, it won't cost a lot in renovations.
Alternative:
Instead of specifically marrying a room to a certain function, allowing a spare room in your home to become multi-functional will still allow you to have the space for your hobbies and interests, but also allow the space to accommodate a future renter or potential buyer.
Quirky Wallpaper
Design trends, like every other trend, change like the wind. This means that, while large floral wallpaper might make a comeback, it doesn't necessarily add any value to your home to jump on board. When wanting to sell your home, realtors across the board will advise that basic, neutral colors are the best way to showcase your home.
Exception:
An exception to this trend would be if your home is newly renovated and can withstand a more edgy design than older properties. Also if you are really wanting to add bold and unique wallpaper, consider just an accent wall that might not feel as overbearing.
Alternative:
A great alternative to wallpaper is tastefully stenciling a painted wall, or even better, by hanging a large, exciting print or painting. Both these can be easily reversed when it is time to sell.
Wine Cellar
While having a wine cellar may seem like a selling feature, vendors are not likely to actually recoup the cost of installing one. On average, wine cellars will run around $40,000 when all said and done, which is substantially higher than the value that they add.
Exception:
There are a few exceptions for wine cellars, one of which is location. If your home is located in a popular "wine country" area, your demographic may be willing to pay for the feature. Another time it may pay to have a wine cellar installed is if you are dealing with luxury real estate, where buyers are on the hunt for upgrades such as this.
Alternative:
There are plenty of low-cost options that can be added to your home which allow you to proudly display your wines. A custom-built wine closet, dining room wine displays and wine cabinets all are cost-effective options that can help you show off your love for wine without the added cost.
Installing High-End Landscaping
If you are looking to turn your home into a luxury property, it might make sense to install high-end landscaping. However, this too often does not pay off the way you hope. On average, high-end landscaping installations can range from $20,000-$40,000 and are generally not marketable for homeowners who are simply trying to get their equity back.

Exception:
There are some exceptions to this rule, like if you live in an area where luxury landscaping is common, or if you are trying to sell your home at the higher end of the market. This would be especially true for properties located on golf course communities where high-end landscaping is more likely to pay off.
Alternative:
Since this type of landscaping is hard to market, carefully pick out a few key features that are attractive to you or the buyer. Then invest in only those items that will give you the biggest bang for your buck.
Remodeling the Basement
While it is very true that remodeling one's basement will definitely assist when selling your home, one should also be aware that the ROI (return on investment) is roughly only 70% of what you spend.
Exception:
If you live in an area where the potential for adding value is high because basements are uncommon and therefore sell higher, it may be worth your investment to remodel. Also, if you are able to remodel and add a separate living space that can be used for rental income, this too may be worth the investment.
Alternative:
Instead of a complete remodel, there are small, cost-effective upgrades one can make to improve the overall look and feel of the space. Things like a fresh coat of paint, new lighting, or an area rug, won't cost an arm and a leg but can make a big impact on the space.
Adding a Pool/Hot Tub
If you are looking to add value and luxury to your home, a pool can be a great addition, however, it may not help when you come time to sell the home. The average return on investment for pools is only roughly 50% and in many cases isn't marketable at all.
The same thing holds true with adding a hot tub since the ROI is only 70% when all said and done.

Exception:
An exception to this trend would be if you are adding the pool in an area where pools are uncommon. This might be especially true for properties located in warmer areas where outdoor living is more prevalent.
Alternative:
If you are wanting to add a pool, but are worried about not being able to recoup the cost when you sell, try less expensive alternatives such as an above-ground pool or an inflatable hot tub. Both these options are easy to remove when it is time to sell and won't require a substantial amount of money upfront.
It is important to be aware of these home improvement projects that may not offer the best return on investment when it comes time to sell. However, this does not mean that you should avoid them altogether. By carefully considering your needs and the needs of the potential buyer, you can make smart choices about which upgrades are worth your money. When deciding on whether or to start a renovation project it would be advisable to consult with a knowledgeable local realtor who will be able to make recommendations according to the current market.