The Ultimate Relocation Guide: Moving To A New City
Posted by Mitchell David on Thursday, May 13, 2021 at 12:39 PM
By Mitchell David / May 13, 2021
Comment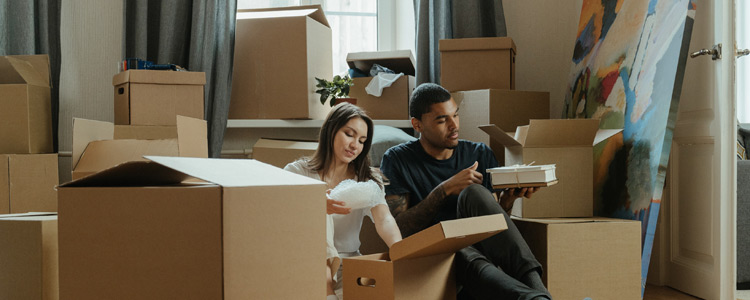 Moving to a new city is a big deal. Whether it's your first move or your tenth, the process never gets any less overwhelming. There are so many factors before, during, and after the big move that you need to consider and it can be easy to get frustrated at any time.
To help you make the smoothest transition, we've put together this guide to relocating to a new city. We'll go over the steps that you'll need to take, what you can expect during the moving process, and some helpful tips to help keep you on track. Read on to uncover the details!
Where Do You Want To Go?
Picture yourself living in your new home. Is it a booming metropolis? A small city full of charm and character? Do you see yourself in the thick of the action, close to major attractions and a vibrant bar scene? You need to determine what sort of city is going to best match your lifestyle to ensure you will fully enjoy your new home.
Let's take a look at a few factors to consider when picturing your ideal home:
Prioritize your values: What is it that you value most in a city? Everyone will have a different answer to this question. For some, it's the ability to walk to work. Others focus on private neighborhoods. Young families will consider an area close to the top schools. Make a list of everything that's important to your lifestyle and begin searching for cities that cater to your top selections.
Size: The size of a city will greatly impact your experience. If you thrive in a bustling and busy atmosphere, you would do well in the heart of Manhattan, New York, where there's no shortage of new people to meet and amazing job opportunities. If excitement and activity grab your attention, try Ocean City, Maryland, where the fun never stops along the oceanfront boardwalk.
Some people are looking for an urban experience, but aren't quite ready for the chaos of downtown living. In a large city, there are always sections of town that are quieter and set back from all the main attractions. Small cities are great, as you have access to a plethora of amenities without the busy crowds found in more densely populated areas. Whether you're interested in the big or the small, take the time to prioritize what you want out of your new home.
Climate: Do you want to live somewhere that you can experience the changing seasons? Do you dread snowy winters and crave the heat of the sunshine? It's been proven time and time again that weather can affect a person's mood, so it's important to live in an area that you'll be most comfortable throughout the year.
The climate is a big factor for those looking to move across the country who will be facing a major climate change, for example, moving from the west coast to the east coast or maybe from the harsh winters in the north to the dry heat of the south. It doesn't take much time to look up an area online to get a sense of what the weather will be like, so be sure to factor the year-round temperatures into your considerations.
Job opportunities: Unless you're moving specifically because of a job transfer, you'll likely need to have a new job lined up for when you make the big change. Do your research and determine the availability of jobs within your skill level and expertise. Some cities are better for certain careers, for example, the west coast tends to be very tech-focused, consisting of major companies in the industry.
If you've already got an established career, narrowing down a location based on your current status. If you're starting out fresh in the job market, you have a lot more flexibility when it comes to your new location.
Cost of living: Moving can be a very expensive process, particularly if you're moving from a quiet, rural town to a trendy, urban city. Living in the city often costs a great deal more than life out in the sticks and when you decide to move to a new place, you need to factor the cost of living into your budget. Be sure that you can afford to move to this area; not only when it comes to rent, but the local amenities as well. Not all grocery stores price their produce the same, find an area that you know won't eat up your paycheck right away every month.
Choosing A Neighborhood
Once you've settled on which city you're most interested in, you can dig a little deeper and decide which neighborhood is most appealing and most affordable for you. It can be overwhelming to figure out where you'll fit best, but much like the way you've gone about choosing your new city, you can make a list of important factors specific to your neighborhood.
Here are a few factors that many homebuyers take into consideration when choosing a neighborhood:
overall cost of living
commute times to and from work (keep potential rush hour traffic in mind)
walkability
nearby schools
crime rates and safety precautions
types of housing
public transit access
proximity to parks, recreation areas, and shopping centers
neighborhood demographic
These are just a few aspects that help people narrow down their real estate search. Keep in mind, you may need to compromise on a few factors. If your child's education is more important than housing style, you may need to find a home closer to the top schools that may not check all your dream home boxes. If you rely on public transit to go about your errands and get you to work, that will certainly take top priority during your search.
The best way to find the perfect neighborhood is to tour around before you make any major decisions. If it's possible, drive around the city for a day, scoping out areas that look appealing to you. Take a walk through the subdivisions or the streets surrounding potential apartment and condo buildings to get a feel for the vibe of the current residents. If you've hired a local real estate agent, ask them about their opinions on the various neighborhoods. Outline your key features and ask them to recommend any neighborhoods that may fit those specifications.
Finding The Perfect Home
Some people choose the neighborhood before they choose a home, especially if a certain style of house is important to you. Some people are more concerned about the type of home rather than a particular neighborhood, so they start their search with a property type rather than a specific area.
Your realtor will be your best friend during this time. Once again, outline what's important to your search and they'll be able to help you find exactly, or as close to, what you're looking for! If you prefer to live in an apartment building, they can narrow their search down strictly to those residential listings.
Provide your agent with your ideal housing style, important amenities such as schools or public transportation, and your estimated budget. Be open to their suggestions, be willing to compromise where necessary, and be sure to stick to what you can afford. Once they have all this information, they'll be able to find you the perfect home in the perfect neighborhood, in the perfect city!
Keep Your Budget In Mind
There's more to moving than just the cost of your new home. You'll be preapproved for a downpayment and a mortgage plan, you'll pay realtor fees, inspection fees, and the cost of any repairs or renovations, and you can't forget the cost of actually moving the contents of your current home over to your new home. If you plan a budget out before you begin the process, you can keep your search to the homes that you know you can afford and have an idea of how much you'll have to spend on movers and any potential renovations.
Some expenses that many homebuyers don't take into consideration include:
hiring movers (if needed)
moving costs such as truck or container rentals, gas for your vehicle, or flights for cross-country moves
security deposits and apartment application fees
homeowners association fees
unexpected repairs in the first few years
A great way to stay on top of these unexpected expenses is to budget for an extra $1,000 that you can set aside for any surprise fees. Keep a running spreadsheet of your costs, adding to it anytime you need to make a payment. Stay on top of these expenses and don't let yourself get carried away, spending money you don't have.
Create A Moving Plan
You've chosen a city, you've found a neighborhood, and you've signed the paperwork on your new home! Allow yourself to celebrate and enjoy this momentous occasion, but make sure you stay focused; you have a lot of work ahead of you.
It may seem tedious, but make sure to lay out a moving plan for the big day. If you're moving close enough to your current place of residence, you may be able to make the move on your own or with a few friends and family members. If you're packing up and heading out a great distance, you'll likely need to hire a moving company, rent a truck or trailer, or ship everything in a large moving container.
Moving everything in your own vehicle is the cheapest route, but is also the most work for you. You'll need a vehicle large enough to pack your things and you'll probably need to make more than one trip. Hiring others to do the work for you is definitely the most convenient option, but is also the more expensive one. If you decide to hire movers, factor them into your budget and book them well ahead of the big day.
A Few Tips To Settle In
After you've made the big move to your new home, it's time to settle in! Getting used to a new city can take some time and definitely some effort on your part. The first part to settling into your new city is to be sure you change all of your personal and contact information. The most obvious change is to get your address switched over at the post office. A few other documents you'll need to change include:
bank accounts
credit cards
drivers license
insurance (car, home)
A few more tips to help you start your new life in this new city:
Say yes to it all. Whether it's your new colleagues asking you to join them for a drink or your next door neighbor offering a cup of coffee to welcome you to the neighborhood, accept these offers to get to know the people you'll be seeing most frequently.
Join an organized group. If you have a hobby, be it a sport or an art, find a group of locals who enjoy the same activity. Join a league and have some fun while meeting new people, look into local community social events, get involved in a book club. Any of these will allow you an open opportunity to meet the locals and really become a part of the community.
Don't forget about your previous network. Just because you've moved away from them all, doesn't mean you have to cease contact with them. Invite your friends to come out and explore your new city with you. It can be a lot easier and make you feel more comfortable venturing out with people you already know.
Give yourself time to adjust. This is maybe the most important tip we can offer. It's going to take time to adjust to your new surroundings, don't get frustrated if you don't feel at home right away. Meeting new people and starting a new life is a bold move, one you should be proud to take on. Be sure to put yourself out there and explore the new setting, but also allow yourself time to sit back in your new home and just enjoy being there.
With the help of this guide, you'll hopefully be able to expect the unexpected and have the smoothest possible transition from one city to the next. These tips can be applied wherever and whenever you decide to make the big move and will hopefully make your change of address a breeze and even an enjoyable experience!