Ocean City's Most Iconic Boardwalk Establishments You Must Visit!
Posted by Mitchell David on Monday, September 13, 2021 at 4:53 PM
By Mitchell David / September 13, 2021
Comment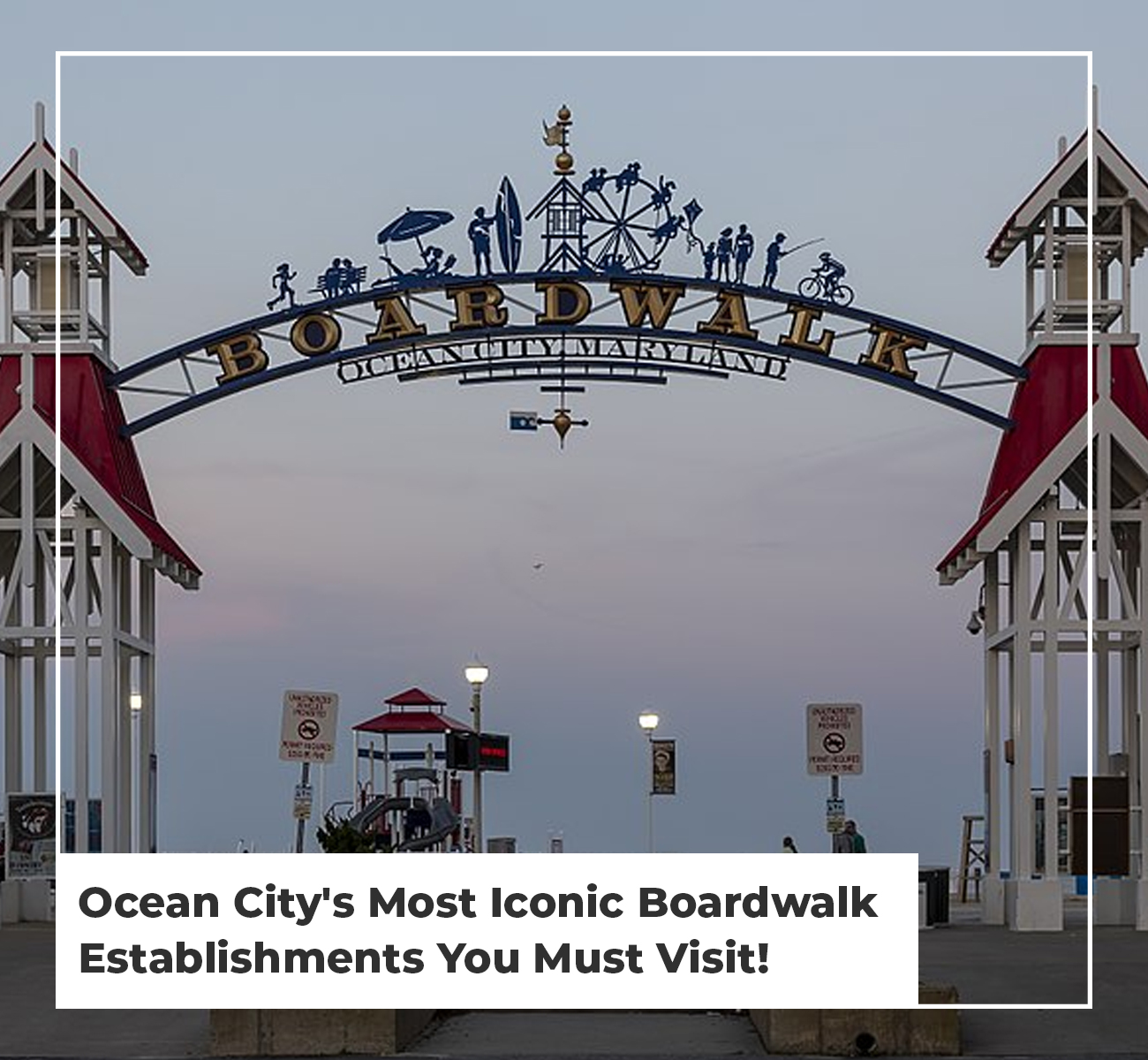 With three miles of boards to traverse, the Ocean City Boardwalk is the perfect spot to find Ocean City's oldest and most iconic establishments. A permanent promenade was first constructed in the early 1900s, bringing with it a host of businesses that are still in existence today. From amusement parks to candy shops, check out some of these can't-miss stops.
Thrasher's French Fries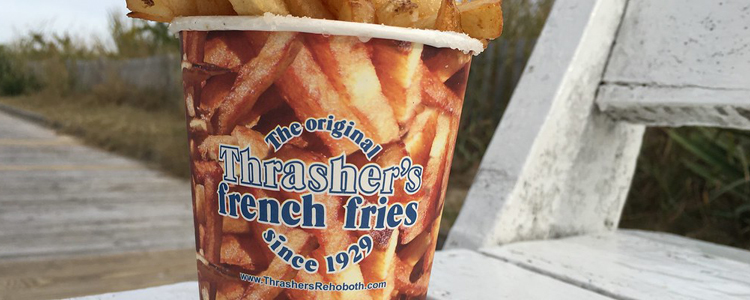 Visitors to Ocean City's Boardwalk typically smell it before they even see it. With three locations along the boards, Thrasher's French Fries has become a go-to stop for those craving a bite of vinegary goodness. On hot summer days, it's not unusual to see a line of hungry patrons forming down the promenade. 
In 1929, J.T. Thrasher opened a Boardwalk concession stand focused on one product: the french fry. With a focus on detail and the highest quality ingredients, the entrepreneur soon attracted a loyal following. 
But when Thrasher's health began to fail, the business was purchased by Ocean City businessman Franklin "Crip" Hastings, and the operation was moved from the breezeway of the Ocean City Amusement Pier to its current flagship location just a few doors down. Despite the change in ownership, the original process and recipe were never altered. 
The Thrasher's empire underwent yet another major shift in 1974, when Charles "Buddy" Jenkins purchased the business after Hastings' death. Today, Thrasher's French Fries continues to operate under the same management. 
Each year, tons of Idaho Russet Burbank potatoes are brought to Thrasher's, where fries are prepared using a special potato slicer invented and designed for the company's use. 
Dough Roller
A visit to The Dough Roller has become a tradition for families who live in and travel to Ocean City. In its 40-plus years of operation, the establishment has grown to four locations - two on the Boardwalk and two on Coastal Highway. 
Owner Bill Gibbs got his start in the restaurant industry at an early age. During his adolescent years, he worked for the Breakers Hotel, renting out beach chairs and umbrellas and giving lunch recommendations to Boardwalk visitors, according to the company. And by the late 1970s, Gibbs had an opportunity to buy the hotel. 
"Having been the beach boy and hearing so many people talk about where to go eat, I thought 'well, I'll put a pizza place out front,'" he said in a recent newspaper interview. 
In 1980, The Dough Roller opened at The Breakers, with Gibbs at the helm. While the restaurant was originally designed as a pizza and sandwich shop, pancakes were soon added to the menu, and The Dough Roller's signature breakfast menu was formed. 
Today, the eatery serves up its specialty buttermilk pancakes, hand-tossed pizzas, subs, sandwiches, and Italian and American entrees. The business has also become a family affair, with Gibbs' wife operating the Breakers Hotel and each of his three sons operating a Dough Roller location. 
Dolle's Candyland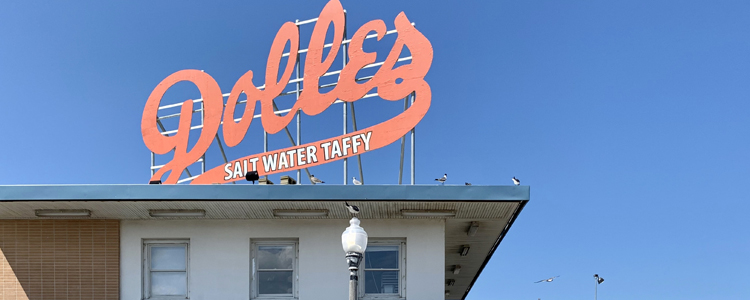 Dolle's Candyland is synonymous with Ocean City. With a rich history that spans more than 100 years - and sweet treats made daily from its flagship location at the corner of Wicomico Street and the Boardwalk - it's easy to see why many locals and visitors continue to patronize the iconic confectionary store. 
Dolle's Candyland got its start in 1906, when Rudolph Dolle Sr. and his son, Rudolph Dolle Jr. visited Ocean City to search for property on which to place their hand-carved carousel, according to the company. That scouting trip ultimately proved successful, and they bought land at the corner of Wicomico Street and the Boardwalk. 
Four years later, Dolle Sr. purchased a small saltwater taffy stand at the same location, and Dolle's Candyland opened for business. By the 1920s, the business had become a thriving candy store, selling original saltwater taffy, caramel corn, fudge, caramels and other sweet treats. And in the decades that followed, Dolle's Candyland would grow to include several locations throughout the resort. 
At its West Ocean City store, for example, patrons can watch caramel popcorn and chocolates being made on site. And in historic Berlin, visitors can visit the company's new Victorian-style candy shop. 
Today, the company is owned and operated by fourth-generation family members, Andrew Dolle and Anna Dolle Bushnell. The brother-sister duo has also launched a wholesale business, shipping taffy, brittles, creme mints and more to customers across the country. 
Fisher's Popcorn
Go to the Boardwalk on a busy day, and you just might find visitors carting one - or several - containers of Fisher's Popcorn. 
In 1937, Everett Fisher opened Fisher's Popcorn at the corner of Talbot Street and the Boardwalk. Using quality ingredients and a secret caramel recipe, the family business has become a Boardwalk staple for generations of beach-goers. 
Today, each batch of popcorn is still made using traditional copper kettles, according to the company. In recent years, however, Fisher's expanded its storefront and its offerings. In addition to caramel popcorn, menu items include cinnamon caramel popcorn, Old Bay popcorn and white cheddar popcorn, to name a few.  
Now operated by Don Fisher, a third-generation family member, Fisher's Popcorn is made fresh each day from its Boardwalk location and can be eaten from a cup, plastic tub or decorative tin. Not in the area? Fisher's Popcorn can also be shipped to any location in the United States. 
Trimper's Rides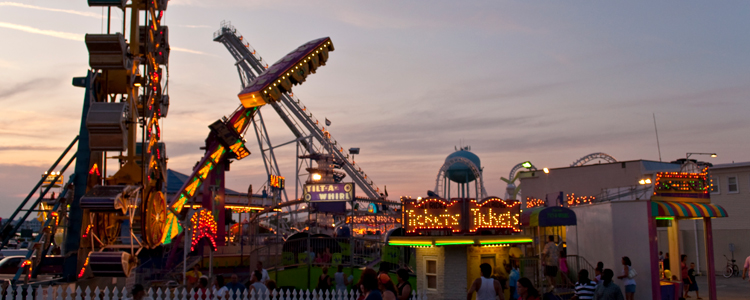 Located at the south end of the Boardwalk, Trimper's Rides is one of Ocean City's oldest operations and the longest running family-owned carnival in America, according to the company. 
The 100,000-square-foot amusement park got its start in 1892, when Daniel and Margaret Trimper purchased their seaside property and opened two hotels the following year. 
As the turn of the century neared, the Trimpers had expanded their operation to include billiards, a roller rink, a shooting gallery and a carousel, among other things. But after a major storm barreled through the resort in 1900, Daniel Trimper remodeled his properties after Windsor Castle in England and added a theater and amusement park. The business venture became known as Windsor Resort.  
As the years passed, the Trimper family would add to their collection of rides. In 1912, for example, Daniel Trimper purchased a carousel from the Herschell-Spillman Company that is still in use today. And in the 1950s, outdoor attractions were added, with new rides being introduced year after year from the mid-1960s to the 1980s. 
While the family continues to celebrate the park's rich history, Trimper's Rides has found ways to add modern conveniences, including free Wi-Fi, electronic Thrill Swipe passes and new food and beverage outlets. 
Dumser's Dairyland
For a nostalgic treat, look no further than Dumser's Dairyland. With several locations throughout Ocean City and stores decked out in 1940s style, it's no surprise that the business has gained a large following among locals and visitors.
Dumser's Dairyland has been scooping up homemade ice cream on the Boardwalk since 1939, when Gladys Dumser opened her shop near Wicomico Street. While the storefront originally served just four flavors, the menu has grown over the years to include nearly 20 flavors of ice cream and several brand-name toppings. 
Dumser's ice cream is so fresh, the company says, that it's sold within minutes of its manufacture. Today, ice cream from the store's original Boardwalk location is still made on site using the same machine installed in 1968, while the remainder is churched out from the Dumser's factory at the corner of Worcester Street and South Philadelphia Avenue. 
In 1981, Dumser's protege, Don Timmons, took over the operation and expanded the business to include seven locations throughout Ocean City. In addition to its original location, Dumser's Dairyland stores can be found at the boardwalk, in uptown Ocean City and along Route 50 in West Ocean City. 
But Dumser's continues to be a family-run business. In addition to his long-time employees and management team, Timmons works alongside his wife and daughters, as well as their spouses.
Looking for Oceanfront Condos in Ocean City, MD? How about an affordable Bayside Interior Condo? You've come to the best website for searching Ocean City, MD Real Estate. Now it's time to choose the right Realtor to meet your needs. Let me put my knowledge and experience to work for you.
View All Homes and Condos For Sale in Ocean City