The Top 5 Places To Go Parasailing In Ocean City, Maryland
Posted by Mitchell David on Tuesday, October 5, 2021 at 12:53 PM
By Mitchell David / October 5, 2021
Comment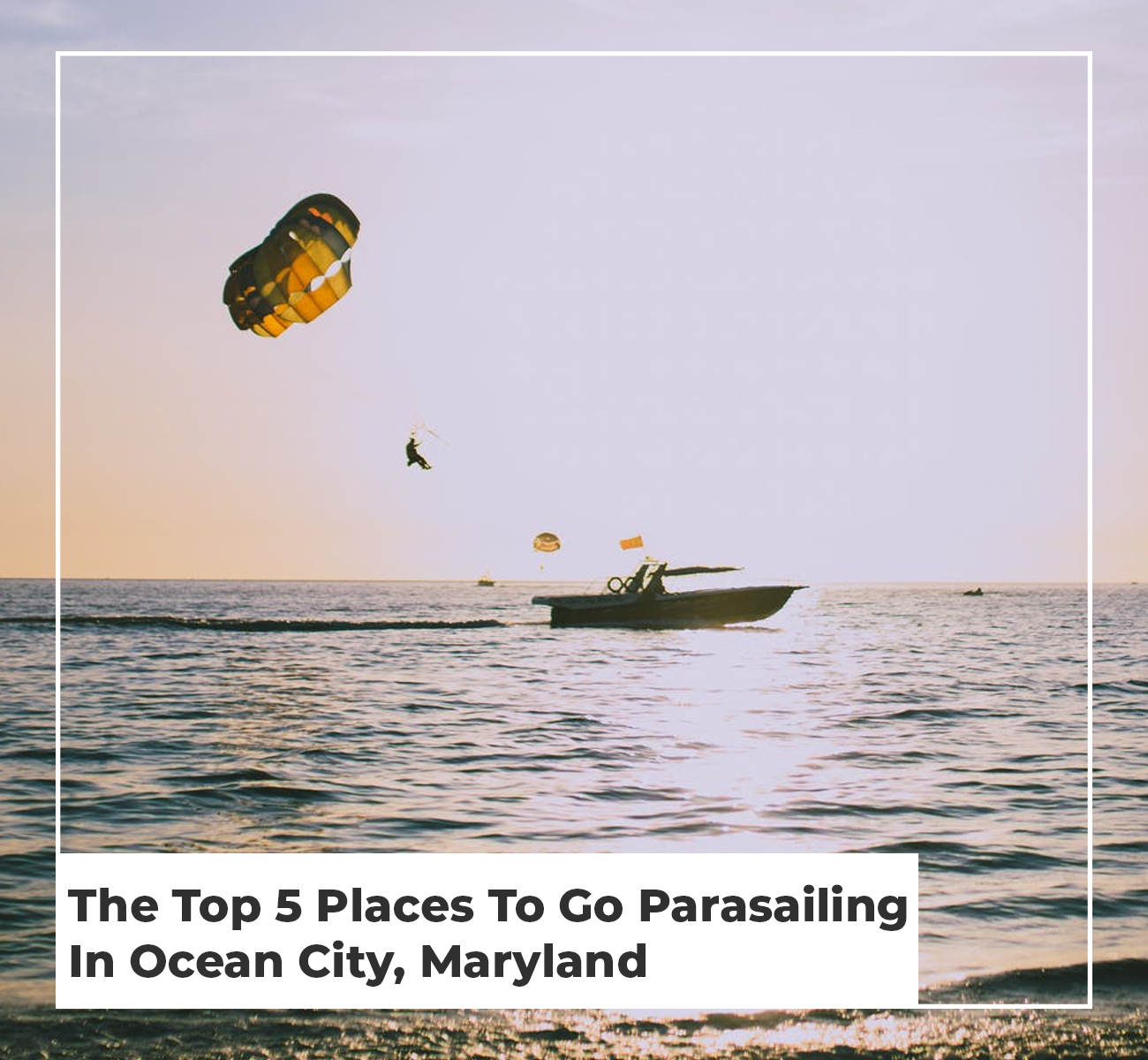 Freedom is an extravagant feeling that we all desire. There are many ways in which people can find such euphoria, but nothing quite comes close to the freedom you feel above the water with the wind blowing on your face. To that extent, it's easy to understand why parasailing is such a popular activity.
Today, we'll be going through the top five places in Ocean City where you can indulge in parasailing to unleash your desire for freedom.
1. OC Parasail
We're starting off this list with the most experienced and well-established parasailing company in Ocean City. OC Parasail's operators have run over 400,000 flights for customers since opening back in 1984. If you're looking for security and peace of mind, this is the ideal spot for you.
You can customize your parasailing experience here depending on how extreme you want it to be – For instance, a variety of boats are available for your parasail to tag off of, allowing for different speeds, accelerations, and longer rides.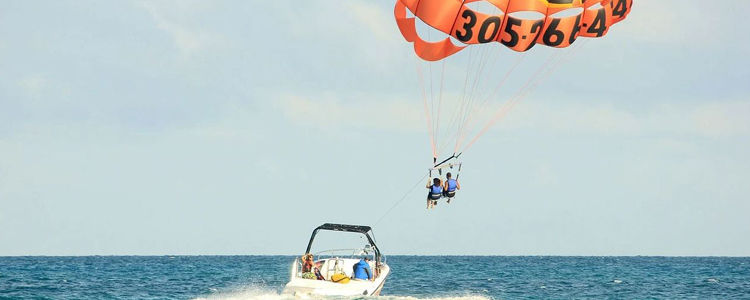 The cost will be dependent on how high you want to go, starting at just $79 for a 400-foot ride increasing to $99 for an 800-foot ride. We recommend an oceanside ride simply for the greater feeling of freedom that it will provide you with, though customers are also free to choose a bayside ride only if they prefer to be closer to land and observers – Maybe even if you feel like showing off.
Furthermore, even if you're a member of the party who doesn't feel up to the task, OC Parasail permits spectators to watch from land, so you won't be made to miss out on the fun!
2. Sea Rocket Ocean City
This chain business is located in multiple hotspots throughout the United States, including Dewey Beach and Fort Lauderdale. The customer-described "first-class experience" makes it easy to understand how business has spread out in such a way.
Parasailing experiences with this company will last a minimum of 1.5 hours dependent on how much a customer pays, with the cheapest option totaling $99. Whilst this may be an already higher basic rate than OC Parasail, it should also be kept in mind that the view from this location's waterfront is better as well, as it runs parallel to the Ocean City coast, giving you a generous view of the city as opposed to simply the bay or the surrounding waters.
For larger parties, there's also a multitude of other activities that can be undertaken for those who don't feel like braving the high winds. Boat cruises and kayak rentals are also available for more formal and easy-going experiences.
Customers also praise the attitude of the staff here, being both professional whilst also playful and light-hearted with their customers, making for a secure yet also pleasant experience – Certainly a place to make memories if you're in Ocean City for leisure.
3. Inlet Parasailing
This location has received positive 5-star reviews across the board according to Google, putting it immediately in the top band for expectations.
Inlet Parasailing offers a worthwhile package as part of their service. Customers have the option to fly double or upgrade to triple, shore lift-off/landing or watery lift-off/landing, a photo package, and eagle-eyed staff who will ensure you are safe for your entire experience.
We recommend this place because, although it is another ocean-view ride, there are many rare sights to be spotted on the journey as well, with past customers reporting sightings of dolphins and stingrays out on the waterfront beneath them. At one point in the journey, you'll also be parasailing over the national park, allowing for a birds-eye glimpse of the glamorous ponies beneath.
Pricing options are identical to OC Parasail, however, when parasailing tickets are bought as part of a package, the ultimate cost can result in a discount – For example, a package of 1 jet ski ticket and 2 parasailing tickets will cost $239, which is $84 cheaper than if all were purchased separately.
Expanding on from the photo package option mentioned earlier, Intel Parasailing also offers a GoPro videoing experience, allowing your experience to be record as an active memory for future reference as well.
4. Paradise Watersports
Our penultimate pick on this list goes to another popular spot in Ocean City, which is renowned by customers for its' helpful crew and affordable prices.
The location encompassed by Paradise Watersports' areas enables for several significant views depending on the height paid for. At lower heights, riders will have a closer look at the sea life beneath their feet, including dolphins and tropical fish. At a higher altitude, however, riders may even be able to glimpse the beaches of Delaware and Assateague Island was given the right weather conditions.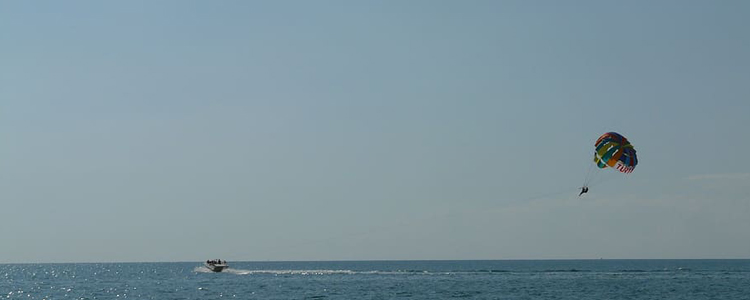 Pricing is, as with our previous pick, the same as OC Parasail – Paradise Watersports charges $79 or a 400-foot ride reaching up to $99 for an 800-foot ride. However, unlike with OC Parasail, spectators also have the option to purchase a guaranteed place on the boat trailing the parasail for $60. Up to three people can ride under one parasail, and up to 12 people will be allowed onboard the boat.
One final note we'd like to attach to this contender is that you'd best dress for the occasion, as you'll have the option to be dipped into the water beneath, so ensure you aren't wearing pants or long dresses.
5. Ocean City Parasailing
Simple though the name of this last contender is, we've had to include it on this list due to its' affordability. With the coupon codes advertised on their website, parasailing rides with this company clock in as being the cheapest of all locations on this list.
Those who are wanting to get up close and personal with the water can rent kayaks, windsurfers, paddle boats, and sailboats, making for a smaller, cheaper, and more direct experience – So if you're looking for party boats or rentals with activities to do whilst out on the water, your best bet will be with a different location on this list.
As briefly mentioned earlier, Ocean City Parasailing offers significant discounts when you book with them online – A standard $79 400-foot ride will only cost $69, an $89 600-foot ride will only cost $74, and a grand $99 800-foot ride will only cost $79. Technically speaking, the most expensive option here will cost you as much as the cheapest option would at most other locations on this list.
However, the real kicker with Paradise Watersports is not the price, but rather, is the area of the waterfront which they own. As breathtaking as views of Ocean City's coast and Assateague Island may be, they may not quite compare to a wide and boundless view of the open Atlantic Ocean itself, which is what Paradise Watersports offers with their 800-foot ride. To attain that true feeling of freedom, this is certainly a sight which you will want to behold.
Overall…
If you've followed our previous blogs, you'll likely already know that Ocean City is an absolute goldmine for water-related activities. There's an innumerable amount of companies that offer these feeling-of-freedom-inducing activities, and whether you prefer jet-skiing, boating, or parasailing, there's certainly something for everyone that'll suit even the largest and fussiest of parties.
Remember, it's always wise to be cautious with vacation spending, but it's also worth departing with a little more money in order to create once-in-a-lifetime memories that will stick with you forever. With that information in mind, we hope you enjoy your Ocean City experience.
Looking for Oceanfront Condos in Ocean City, MD? How about an affordable Bayside Interior Condo? You've come to the best website for searching Ocean City, MD Real Estate. Now it's time to choose the right Realtor to meet your needs. Let me put my knowledge and experience to work for you.
View All Homes and Condos For Sale in Ocean City