The Top 5 Places To Rent Jet Skis in Ocean City, Maryland
Posted by Mitchell David on Monday, October 4, 2021 at 11:10 AM
By Mitchell David / October 4, 2021
Comment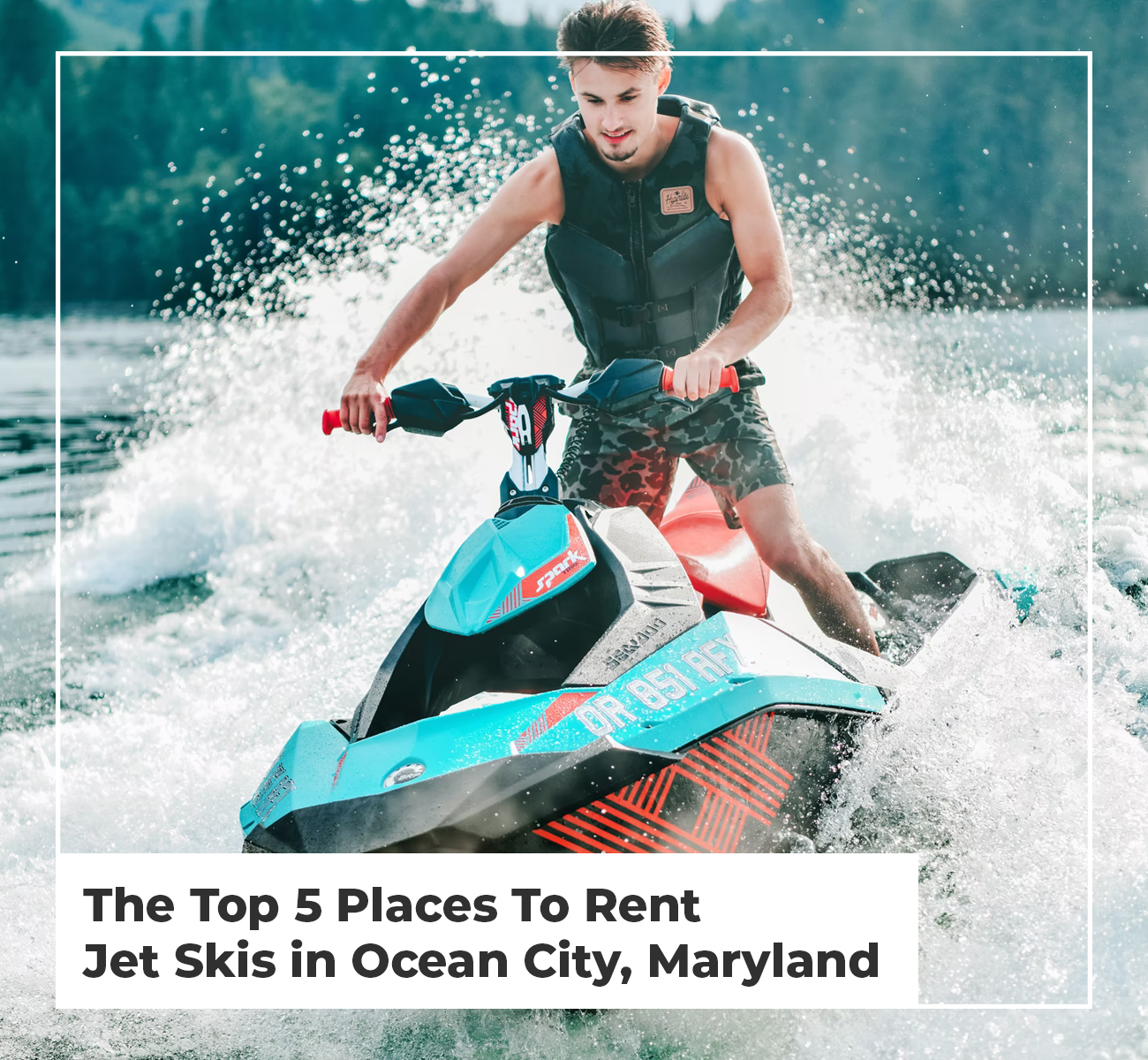 Looking for a little adventure? Or just feeling the summer buzz? Whatever circumstances bring you down to Ocean City, you're unlikely to find yourself bored for even a moment. With a vast multitude of activities available to be undertaken in this extravagant city, you're going to need to be sure of what place offers what and whether it accommodates your needs.
To that extent, we've put together a list that details the five best places to rent jet skis for a memorable experience in Maryland.
1. Action Watersports
We're starting this list off with the largest jet ski rental spot in Ocean City – By that, we mean the place with the widest area of water for you to speed around on.
Locally owned by a small team, Action Watersports receives praise for its' safety measures and the friendliness of its' staff. So if you're somebody who is both a thrill-seeker yet cautious, this is the best spot for you as you're guaranteed to be in safe and competent hands.
Prices are also extremely lenient. For just $129, any adult aged 16 or over can rent a jet ski for a 60-minute joyride. You can also pay more to increase this time, but should you change your mind on the day, Action Watersports abides by a policy that enables you to cancel and receive a full refund.
With such safety measures in play, both physically and financially, there's no reason not to try this spot out, though keep in mind that you need to pre-book sessions as opposed to turning up if and when you pass by.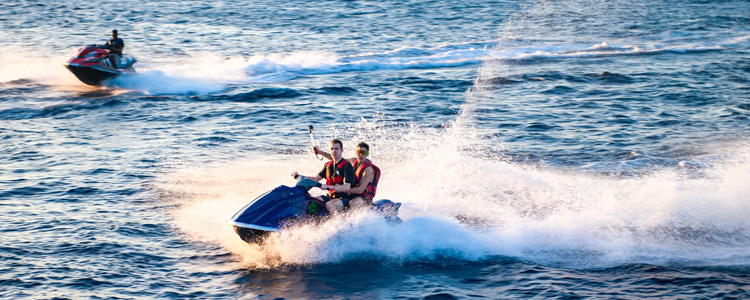 2. Dorchester Street Jet Ski Rental
Our next pick on this list also goes to a small and local business. Conveniently located in the center of Ocean City, this spot will easily give you the best view of all jet ski rentals on our list.
Much like Action Watersports, Dorchester Street also charges a fixed rate of $129 for 1 hour of jet-skiing. They also have the same basic terms and conditions, including having to be 16 years old to ride solo, though children aged 5 and upwards can ride with an instructor or other adult.
The location of this spot is what makes it differ from our previous pick, however. Due to being located in the heart of Ocean City, Dorchester Street is a stone throw away from other amenities such as the boardwalk or the Route 50 bridge, meaning that you can enjoy a peaceful sunset walk after a wild afternoon.
Customers also speak highly of how thoroughly the instructors explain how to use the jet skis, and even the most nervous riders eased into the experience due to how beginner-friendly the advice given was – If you're a first-time jet ski rider or just wanting to tick it off the bucket list, Dorchester Street is the ideal place for you.
3. Odyssea Watersports
Here is a place that specializes in all water-related activities, including jet skis, boats, windsurfing, and more. For the purposes of this list, however, we'll focus purely on the jet ski rental side of their business.
Unlike our first two picks on this list, Odyssea Watersports are more accommodating for larger parties, so it may appeal more to those who are in Ocean City for celebrations or work-outings as opposed to world travelers who are likely solo.
You can also choose to downgrade the length of your session from 1 hour to 30 minutes, so those who don't feel 'up to the challenge' can have a slightly softer and quicker experience. The one downside, however, is that jet ski rentals are seasonal with this spot, only running from May to September of each year.
Furthermore, if you enjoy your jet skiing experience that much, and if you can afford to do so, you can actually buy a jet ski of your own from Odyssea Watersports - It'll only set you back around $7000. On the bright side, they now accept cryptocurrency as payment, so it could be a good spend for investors on vacation down in Maryland.
4. Bayside Boat & Jet Ski Rentals
As the name would suggest, this next spot is located next to the bay, making it a natural match for the jet skiing experience. Whilst this place offers services in both boating and jet skiing, we'll be focusing on the latter for the sake of this list again.
The primary tipping point for this location is that it clocks in slightly cheaper than previous spots on this list, with a 1-hour ride setting you back only $115. However, riders must be aged 18 or over as opposed to 16, so freshman college students may have to find better luck elsewhere.
Should you get cold feet as the time nears, fear not, for Bayside Rentals offer a $100 refund, which while not the full price, is still a significant and fair amount. However, this is a two-sided coin, as canceling within 24 hours or not showing up will incur an additional $75 fee, so it's best to be 100% certain that you want to do this before signing up for it.
Given you stick to the plan paid for, this option will certainly come up as cheaper than most others in Ocean City, but again, be very certain, otherwise, you may find it, ironically, costing you more.
5. Island Watersports
Our last pick on this list was reserved for a highly praised location, with locals and tourists alike both agreeing on Island Watersports' exceptional services. Being the highest-rated boat and jet ski rental spot in all of Ocean City, this is certainly the ideal place to be if the quality is your priority instead of price.
Equipped with Intelligent Breaking Technology, the jet skis used at Island Watersports are among the safest models out there, meaning that even those who are forgetful or just flat-out disregarding the safety debriefing will still be safe out on the water.
If that's not enough certainty for you, then perhaps take some additional comfort in the knowledge that ride times are cross-scheduled with competitor jet ski rental locations (some of which are on this list) to ensure that collisions do not occur on the shared waterfront – You'll be as safe as can be whilst also having the sea to yourself!
As was the case with our previous pick on this list, it's best to be absolutely certain before booking a slot with Island Watersports that you want to go jet-skiing, as cancellations and no-shows are subject to an additional $75 charge here as well.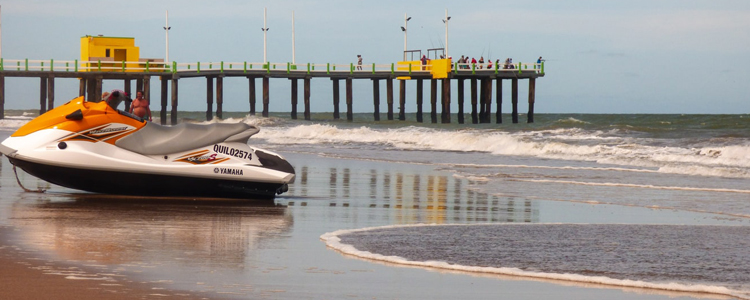 Overall…
It's a wide and exciting world out there -but the sea can be even more exciting than that! Even in an enclosed space, having control over the water can be both a refreshing and releasing experience – riding a jet ski with a strong sense of freedom on your back can easily steal the spotlight away from the rest of your vacation.
Furthermore, Ocean City lives up to its' namesake by being located out on the water, making it the ideal place to indulge yourself in the complete jet-skiing experience. You can go all-in with Island Watersports, or go a little cheaper with Bayside Rentals, or look forward to a relaxing evening walk afterward whilst jet-skiing with Dorchester Street Rentals.
Whilst we would normally advise you to be cautious with vacation spending, in this situation, you should feel free to spend your money however you feel. Jet-skiing is an experience that you may only embark on once or twice in your life, and sometimes, bigger really is better…
Looking for Oceanfront Condos in Ocean City, MD? How about an affordable Bayside Interior Condo? You've come to the best website for searching Ocean City, MD Real Estate. Now it's time to choose the right Realtor to meet your needs. Let me put my knowledge and experience to work for you.
View All Homes and Condos For Sale in Ocean City