The 7 Best Oceanfront Condos To Live In Ocean City, MD For 2022
Posted by Mitchell David on Friday, September 30, 2022 at 11:41 AM
By Mitchell David / September 30, 2022
Comment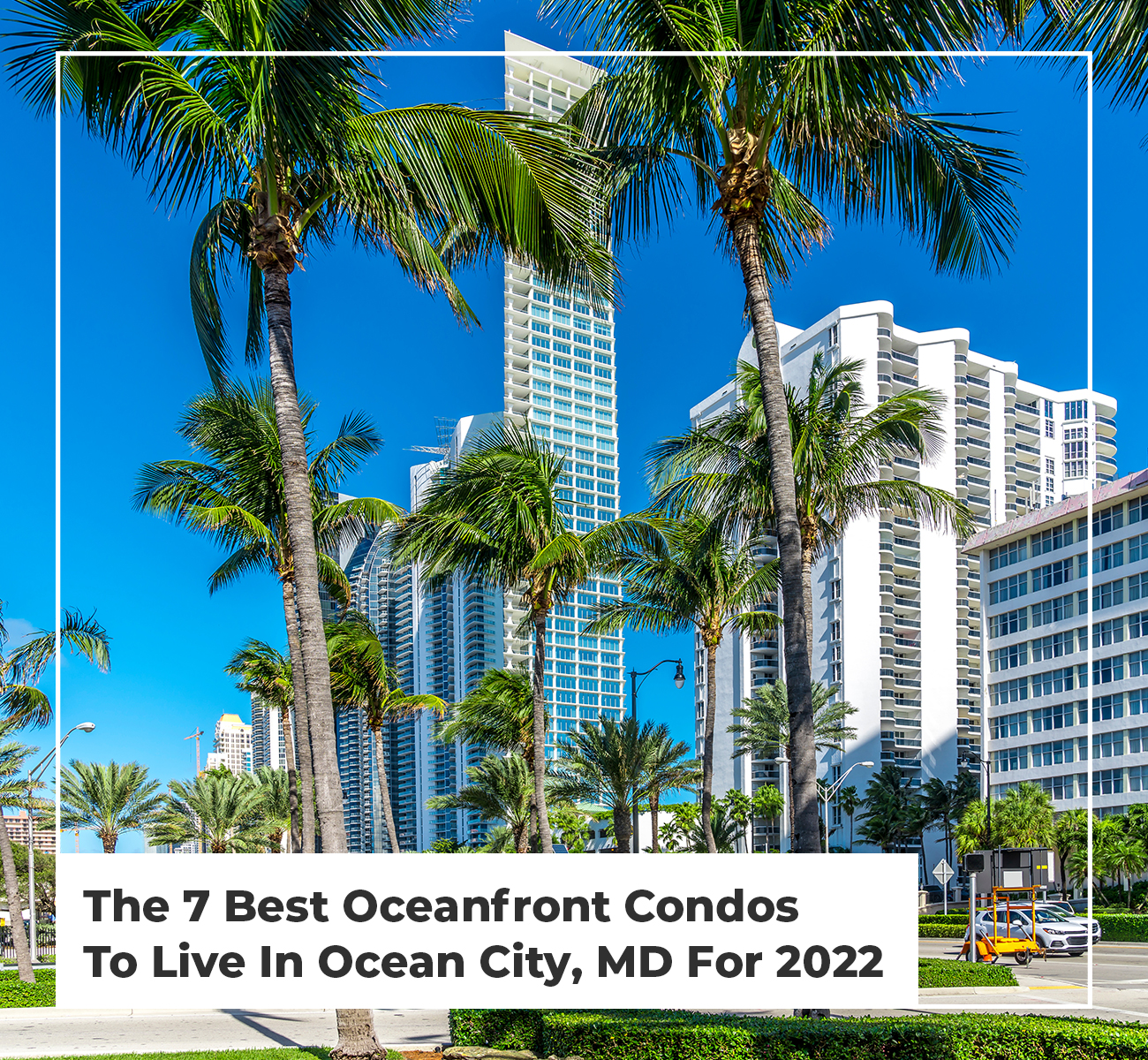 Ocean City is a beautiful place that is full of amazing views of the nearby waterfront. If you want to take advantage of those views, then a condo would be the best choice for you. With so many great buildings in Ocean City, it can be tricky to figure out which one works the best for you. If you are thinking about making a move, then have a look at this list to see the X best oceanfront condos to live in Ocean City.

Ocean City is known by locals as being a great vacation spot, and people come from all over to stay there. Many of the condo buildings have units for sale, rent, and short-term rentals for vacationers. If you are looking to find a great place for investment condos, then this is an excellent spot to look, as the prices on some of these beachfront condos are incredible.
1. Sunset Island
Sunset Island is a very popular condo building that is located on a private 37-acre island. It features plenty of single-family homes along with quite a few condo buildings, plus the island is full of great amenities for members. Many of the members enjoy being part of a beach community, and the neighborhood has plenty of fantastic events that are hosted for Sunset Island members every year.

Condos in the area are selling at a reasonable price, and many of them are right on the water so that you can be just steps away from the beach. Imagine waking up to the sound of the crashing waves and being able to spend your day relaxing in the warm sand. That's what it's like for residents of Sunset Island, and you can experience that for yourself if you choose to live in this fantastic area.

It's one of the best places to live in Ocean City, and it's a great place to check out if you are looking for a waterfront condo. The area features a clubhouse and indoor/outdoor swimming pool, and plenty of paths to encourage residents to use their bicycles. There are also plenty of fishing piers that are available for those in the area who are looking to catch something yummy for dinner.

2. The Towers
This beautiful building has been operating since 1974, and it features 44 residential units along with plenty of fantastic amenities. The building is in a great location that is just blocks away from downtown Ocean City, so you are never far from the action. Each of their gorgeous units has two bedrooms and two bathrooms, so it's perfect for young couples or small families, and they are some of the best oceanfront condos for sale in Ocean City, MD.

The units are also a great size, and each one is 1122 square feet, with a fantastic balcony that overlooks the nearby ocean. The building has spent over 1 million in renovations over the last few years, so you know it's doing a great job of keeping up to date. They recently replaced their entire elevator system, and they are making new improvements to the building all the time to make sure it is in perfect shape for its residents.

The Towers is a fabulous choice for those who want the true high-rise experience. Their freshwater pool is a perfect option for anyone who wants to swim without worrying about the sand, and it's in an excellent location for anyone who is choosing to work in downtown Ocean City. Have a look at some of the delightful-looking units available at The Towers if you are looking for a high rise with charm.
3. The Plaza
The Plaza was built in 1985, and it has always been one of the best places to go for a condo in Ocean City. This is considered to be one of the most popular condo buildings in the entire town, and it has quite a few newly renovated units available. The building is located right on the beach, so you don't have to go very far to do some swimming or catch some rays, plus you get great views of the amazing ocean.

The Plaza has two and 3-bedroom floor plans, so you have options when it comes to how much space you need. Central air is available in the building, so you never have to worry about being too warm in the summer months. The building also features quite a few great amenities for its residents that make it a great place to be, so let's have a look at some of those.

The building is a fantastic choice for anyone who wants to take advantage of the great amenities that come along with living in condo buildings and for those who want to be right next to the beautiful water. It features three pools: one inside, one outside (which is heated), and a kiddie pool for the little ones in your family plus, they have a whirlpool and a sauna. The Plaza also has an oceanfront lounge with a bar and grill restaurant called "The Jungle Bar," so you are never far from some great food and drinks.
4. Eagle Bay
If you prefer a condo on the bay side of the city, check out the amazing units over at Eagle Bay. This condo offers fantastic views of both sides of Ocean city, but it is in a much quieter neighborhood. These newer units are freshly updated with tiled floors and new washers/dryers, and they are great prices compared to many of the condos in the area.

The building features a private and fenced-in pool, and it is very close to many different restaurants and shopping opportunities in Ocean City. The units are all two bedrooms with one bathroom, and many people enjoy that they are lower than traditional condos as the building is only three stories high.

The condos at Eagle bay are perfect for anyone looking to find some good investment properties or looking for a place to retire. This quiet building is in a great location, and it's far enough away from all of the traffic in the major parts of the city, so you can relax and enjoy the amazing views.

5. Antigua
Antigua is one of the most beautiful buildings you can see on the Ocean City waterfront, and it is home to plenty of great units. The building is located on the Coastal Highway, and it offers views of both the beach and the bayside. There are a total of 104 units, with 96 of them being two bedrooms and the other 8 being three-bedroom penthouse-style condos.

The building has a few great amenities that keep its residents happy. Some of the highlights include their heated outdoor pool, two sauna rooms, poolside showers, and two oceanfront decks that are perfect for getting a good tan. People love the building for its interesting layout and excellent downtown access.

The condos in Antigua have been updated regularly, and many of them feature significant upgrades that have happened within the last few years. Each one also offers you your own private balcony with granite seating so you can enjoy the amazing sunrises and sunsets from the comfort of your own slice of paradise. Antigua is a fantastic choice for anyone who is looking for a newly updated and upgraded building that is just as beautiful outside as it is on the inside.
6. Princess Royal
If you are looking to find one of the most popular buildings for vacationers in Ocean City, then this would be at the top of your list. Princess Royal is a fantastic building that also offers condos for sale, so you can be lucky to live here for a great price. They have some of the best amenities in the city for their residents, and people flock to the building for its beautiful rooms.

Princess Royal is known for its four-story Atrium that is home to an Olympic size indoor swimming pool. It also has an award-winning spa and some of the best dining in the city. The building features everything from a coffee shop to an ice cream shop, so you don't even have to leave the vicinity to find everything you could ever need.

There are so many unique features that Princess Royal has, and that makes it an ideal choice for anyone who is looking to find some excellent investment condos. The building also has shopping opportunities and even an art gallery where you can enjoy many of the local artists. The building is easily one of the most popular in the city, and the condo prices are excellent, so have a look at some of the great condos at Princess Royal today.

7. The Gateway Grand
The name says it all with this incredible building, and it is one of the newest condo buildings in the area. The Gateway Grand features stunning 3-4 bedroom units that have been impeccably designed to feature many modern touches.

The units all have large 9-foot ceilings along with open floor plans, so you feel like you are in a large and spacious loft. Each one has its own private balcony or patio so you can enjoy the calm evenings and mornings outside in the fresh air.

Along with the fantastic lounge with bull bar and flat-screen TVs, residents also have access to the kids club. The kids club is stocked full of video games and board games to keep your kids entertained together. They also have a movie room, two pools, and a state-of-the-art fitness center that you can take advantage of. This building is perfect if you are looking for some great amenities and for those who are looking for a condo that is a good fit for families.

Ocean City is a popular vacation destination that is full of great condos and plenty of amazing things to do. Investing in some of these condos can be very beneficial to your investment portfolio, and you can find quite a few at much lower prices than in other vacation towns. Ocean City is a great place to check out if you are looking to find a delightful condo by the ocean so have a look at some of the amazing oceanfront condos today to see which one suits you the best.
Beach Life Premier Team represents Maryland and Delaware's finest properties with exceptional skill using the most innovative technologies currently available. They offer ultimate privacy and security, speed, and efficiency. Their real estate experience has given them a clear understanding of the mindset of home buyers and sellers and a thorough understanding of the regional marketplace.