The Top 10 Things To Do In Ocean City, Maryland
Posted by Mitchell David on Monday, March 29, 2021 at 12:17 PM
By Mitchell David / March 29, 2021
Comment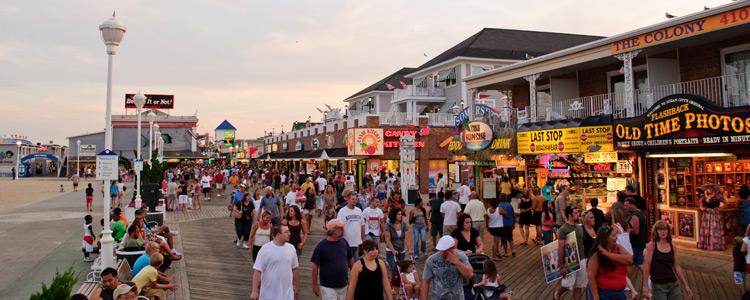 Ocean City is a beautiful and exciting city nestled along the eastern coast in the state of Maryland. The popular resort town falls between the Atlantic Ocean and the Isle of Wight Bay and is filled with fun and excitement for the whole family. Home to roughly 7,000 full time residents, Ocean City welcomes nearly 8 million visitors annually, most of which are during the sunny summer months.
With so many people flocking to the coastal oasis, Ocean City has become a mecca for family friendly activities for all ages. Here is a list of the Top 10 things to do in Ocean City, Maryland.
Jolly Rogers Amusement Park
2901 Philadelphia Ave, Ocean City, Maryland
www.jollyrogerpark.com
What began as a driving range and putting green in the 1960's, soon turned into the iconic Jolly Roger Amusement Park when purchased in 1974. Today, the popular attraction features two locations for families to visit and enjoy.
In total, there are five separate parks which make up the Jolly Roger experience. Specifically they are Jolly Roger at the Pier, SpeedWorld, Splash Mountain, Jolly Roger Mini Golf, and Jolly Roger at 30th Street.
Jolly Roger at The Pier is the most recognized site and is located along the popular Ocean City boardwalk. The amusement park features famous rides such as Looping Star, Kraken, the Slingshot, and much more. Visitors of all ages can enjoy many of the fun and wild carnival games and enjoy the tasty treats from a wide selection of vendors and eateries.
Further uptown, located on 30th Street, is Jolly Roger at 30th Street. The second amusement park location also houses a number of thrilling rides as well as a handful of fun games and plenty of snacks and treats!
Jolly Roger Splash Mountain is located at the 30th Street location and is the area's largest and most exciting water park. There are 16 slides and attractions for children of all ages to enjoy. Splash around in the kiddie pool, relax along the lazy river or get your heart racing down one of the towering waterslides.
Speedworld, also located at the 30th Street park, is the place for speed demons to race around on the east coast's only Formula 1 track. There is also a 5 story cart coaster to try out along with state-of-the-art video games.
Finally, Jolly Roger Mini Golf offers two 18-hole mini-golf courses, Jungle Golf and Treasure Golf. Practice your putting skills and enjoy a fun filled afternoon with the whole family!
Regardless of which park you visit, which will most likely be all at some point, visitors of all ages will enjoy the many popular games, arcades, rides, and tasty treats!
Ocean City Beach
It seems inconceivable to visit Ocean City, Maryland without making your way over to Ocean City Beach. The free beach is open daily from 6am to 10pm and offers 10 miles of stunning Atlantic Ocean coastline. Residents and visitors flock to the sun drenched shores to relax, build sandcastles, swim and make memories. Ocean City Beach is also home to the popular boardwalk area which is dotted with restaurants, shops, souvenir stores, bars and more. Regardless of time of day, there is always something going on along the boardwalk.
Forget a beach chair? Towel? No worries! There are a number of rental shops which allow for rentals which include beach chairs, umbrellas, games and more.
Frontier Town
8428 Stephen Decatur Highway, Ocean City, Maryland
https://campground.frontiertown.com/
Looking for something outside of the traditional hotel or airbnb rental? How about spending the night at the waterfront campground, Frontier Town. Nestled along the beautiful Sinepuxent Bay, Frontier Town features 600 spacious campsites which allows for primitive camping all the way to luxury RV's. Visitors can rent deluxe trailers or take advantage of the camping cabins. Located at the campground is the Western Theme Park, Water Park & Miniature Golf, as well as High Ropes Adventure Park. These parks offer a plethora of family fun activities such as lazy rivers, zip lines and mini golf courses. The park staff also host daily activities for campers to participate in and the campgrounds are home to a restaurant, bar, camp store, deli, ice cream shop, gift shop and arcade. The grounds provide 75 boat slips for those wanting to take advantage of the water access or grab your fishing pole and toss in a line off of the 200 foot long pier.
Ocean City Boardwalk
The Ocean City Boardwalk is an iconic, three mile boardwalk which runs along a section of Ocean City Beach. The award-winning boardwalk is home to a wide range of exciting restaurants, hotels, shops, entertainment venues and more. Enjoy a brisk morning bike ride or a leisurely evening stroll, taking in the last of the sights and sounds of the beach. Along the boardwalk are some of the city's most exciting activities and attractions such as Jolly Rogers Amusement Park, Fisher's Popcorn, Dandy Don's Bike Rentals, and even the city's only brewery.
Trimpers Amusements
700 S Atlantic Avenue, Ocean City, Maryland
https://www.trimperrides.com/
Trimper's is America's oldest continuously single family run amusement park! There is even a carousel which is still in use which dates back to 1912! For over 120 years the exciting park has been providing family fun and entertainment to visitors from across the world. Throughout the years the park has introduced new games, vendors and rides, but the warm and welcoming atmosphere has remained consistent since it originally opened in 1890. Some of the parks most popular attractions include Herschell-Spillman Merry-Go-Round, Bill Tracy Haunted House, and the world-class Tidal Wave coaster. Along with the rides, Trimper's also hosts a variety of events throughout the season which include Kidsfest as well as holiday activities.
Fishing Charter - Sunset Marina Ocean City
12911 Sunset Avenue, Ocean City, Maryland
https://ocsunsetmarina.com/occharters/
Ocean City, Maryland is the White Marlin Capital of the world and is home to some of the most amazing fishing opportunities in the area. There are a number of exciting excursions and charters available, such as Sunset Marina, which allow visitors to book a private charter trip. The fishing season runs from May to October allowing fishers to spend the day attempting to catch the likes of white marlin, blue marlin, tuna and more. Deep sea fishing is a great way to spend a gorgeous afternoon on the water. From ½ day, full day to overnight, there are a number of different packages which can accommodate your group's adventures.
Ocean City Life-Saving Museum
813 S Atlantic Ave, Ocean City, Maryland
https://www.ocmuseum.org/
Ocean City has a rich and exciting history, much of which is intertwined with the waters which surrounds the community. At the Ocean City Life-Saving Museum visitors are able to take a look back over the years and see the many displays and exhibits on storms, sea life and life-saving. Located on the Boardwalk at the Inlet, the Ocean City Life-Saving Museum offer more than just a look back at the waters, it also highlights early life in Ocean City with exhibits such as Beach Vacation Artifacts, Commercial Fishing, the history of pioneering women in Ocean City and over 200 samples of sand from around the world. The museum is a great way to spend a day, a rainy one perhaps, and learn about the famous resort town before it was just that.
The Ocean City Art League
502 94th St, Ocean City, Maryland
https://artleagueofoceancity.org/
The Ocean City Art League is located in Little Salisbury Neighborhood Park and offers up a rotating display of local artwork. The center is set within a newly constructed building which houses much more than just exhibits. There are a wide range of classes, programs and events housed at the gallery which strive to keep the arts and appreciate the arts alive throughout the city. Regardless of time of year, the beautiful Ocean City Art League is abuzz with art enthusiasts from all over enjoying a unique exhibit or an exciting class or event.
Northside Park
200 125th Street, Ocean City, Maryland
https://www.ococean.com/location/northside-park
Northside Park is a 58-acre bayfront park which offers a plethora of things to do for the entire family. The scenic park is the city's largest and most popular park and offers visitors use of two well equipped children's playground, three softball/baseball fields, a lighted soccer field, a gazebo, footbridge, fishing lagoon, picnic areas, two piers, concession stand, walking/jogging pathway, and a community building. The community center houses a 14,200 square foot gymnasium, kitchen, community room, patio, sitting area, a sports center annex with a 21,000 square foot multi-sport sports arena. The expansive park is also home to a number of community events and activities throughout the year which celebrate heritage, holidays and more. Pack a picnic and head over to the spacious park enjoying the many amenities and sights available.
Watersport Rentals
Various locations
www.oceancity.com
There are plenty of opportunities throughout Ocean City for visitors to rent a variety of equipment to enjoy the surrounding waters. Whether wanting to enjoy a calming sunset kayak, or get your blood pumping by parasailing 800 feet in the air, Ocean City is paradise for any water enthusiast. There are many companies available which feature rental opportunities for kayaks, canoes, jet ski, sailboats and more. Enjoy the many beautiful areas which are dotted around Ocean City such as the Isle of Wights Bay.
Looking to enjoy a scenic boat ride? There are plenty of opportunities to book a private boat tour throughout the bay which offers stunning views and is the perfect place to enjoy an on the water dinner and a breathtaking sunset.
Ocean City, Maryland is an amazing town which is jammed packed with activities which suit all ages and interests. Visitors from around the world travel to the city for its stunning beauty, white sandy beaches, sparkling waters and ample amenities which include a plethora of fun activities, amusement parks, restaurants, shops and retailers, entertainment venues and parks. From thrill seeking to relaxing and rejuvenating, Ocean City is a place where everything is available and anything is possible.