The Top 5 Waterparks In And Near To Ocean City, Maryland
Posted by Mitchell David on Monday, December 13, 2021 at 3:22 PM
By Mitchell David / December 13, 2021
Comment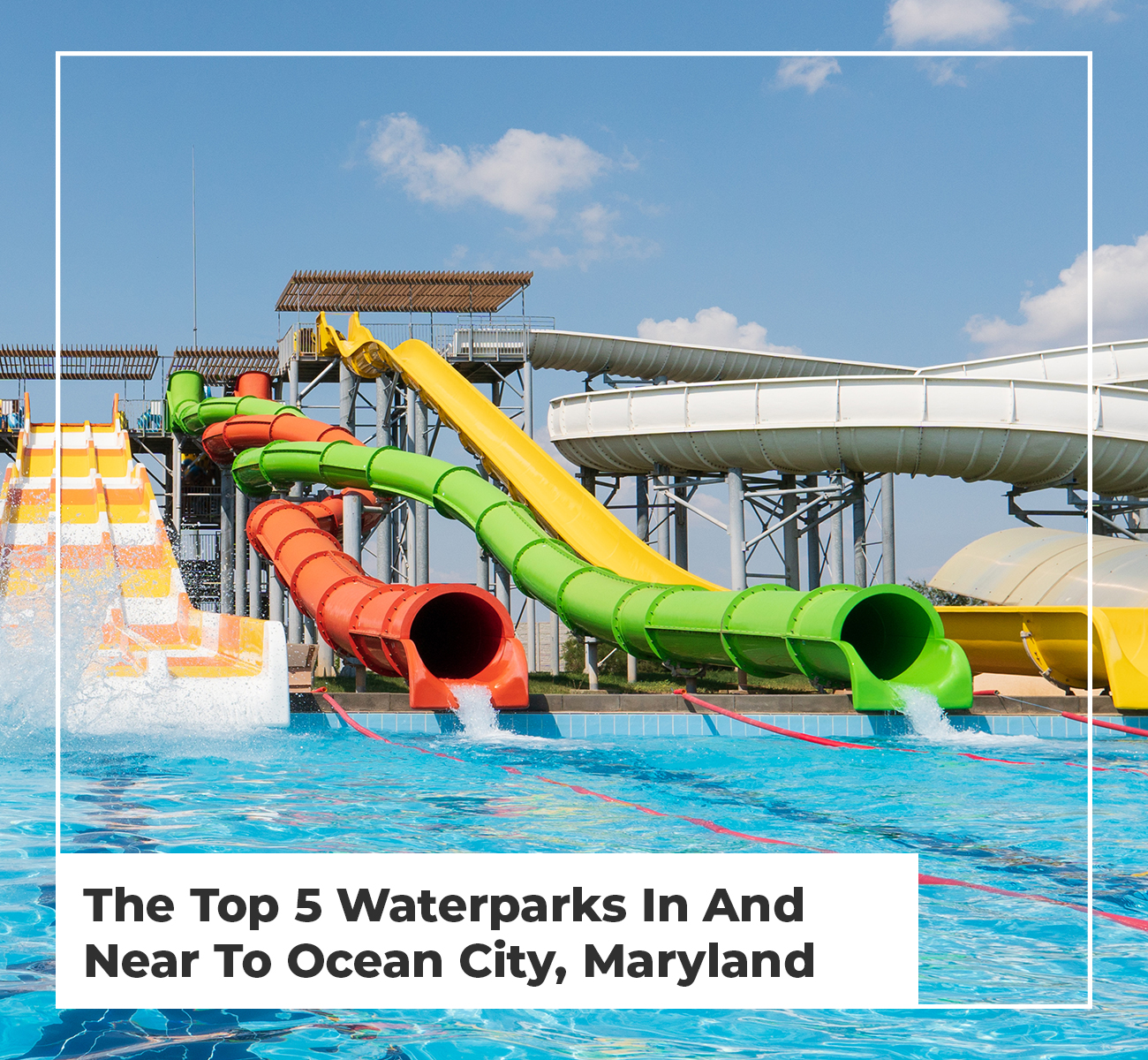 In past lists, we've taken a look at the best places to rent boats and jet skis in Ocean City as well as some of the finest restaurants in the area. With an innumerable amount of watersports stores, marinas, and fancy boat rides, Ocean City easily lives up to its name and makes the most of its surroundings.
Today we'll be going through the best waterparks in and around the area. Keep reading to explore our highlights of Ocean City!
1. Splash Mountain Waterpark
Fun for the whole family, Jolly Roger hosts a variety of rides that cater towards all ages split across four separate theme parks throughout Ocean City. This staple of the city has provided locals and tourists alike enjoyment for more than 50 years. The Splash Mountain waterpark specifically is the one that has earned a place on our list.
In total, there are 16 different slides and attractions for guests to soak themselves and have fun with. Those who are just looking for some light fun or have young children can enjoy one of the kiddie pools, the family activity pool, or the mysterious and enticing Rain Forest.
However, guests that are looking for a greater thrill and dare to go to the furthest extremes to have fun won't be disappointed either. The flagship Master Blaster water slide will shoot guests uphill in a torrent of water. The Aqua Loop will have them spinning and losing their minds in motion. And then there's a ride for the most daring guests of all: the steep Stealth ride; a 45-foot tall half-pipe slide.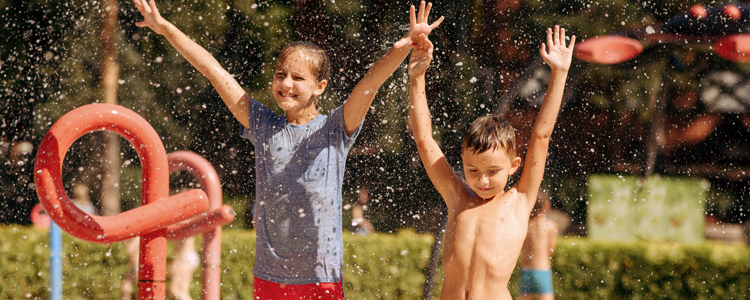 2. Frontier Town Waterpark
Providing multiple attractions across Maryland, Frontier Town has made it onto our lists before. This time, they once again make a name for themselves due to their extravagant waterpark in Maryland. However, do keep in mind that this one isn't quite located in Ocean City, rather just a short drive from the resort town.
Frontier Town Waterpark features a large public pool for guests to take their friends and family to and splash about in for starters. What makes this pool especially interesting is not so much the pool itself, but rather the décor around it. Staying true to the old Western and Native American theme, multiple tipis have been raised on the grass around the pool, with the architecture also taking on a generally outdated appearance to suit the classic theme.
There are also multiple water slides here that twist and twirl, so you can still get your thrills as well as a little slice of history. Although not inherently a water-based activity, groups can also play mini golf in the park.
Perhaps this isn't the best waterpark for those looking to go all in with unique and thrilling waterslides, but it's here on our list because Frontier Town's old Western vibe is very unique for a waterpark and we believe the architecture makes it far more interesting than a contemporarily-designed waterpark.
3. Viking Golf & Thunder Lagoon Waterpark
This waterpark will accommodate more to families with young children, so if you are more of a "big kid," this place may not be the most ideal choice for you, however, there are still several reasons not to immediately write this one off. We're venturing slightly further north for this one, as Thunder Lagoon Waterpark is technically located on Fenwick Island, but it's a stone's throw away from the Ocean City borderline.
The waterpark itself houses the 400-foot Lazy River ride, the 2,800-square foot activity pool, and an 800-square foot kiddie pool. There's also a Twister double slide where parents and children can ride together. Of course, for those few stubborn family members you may have who don't want to get wet, you can leave them at the golf course to entertain themselves and not ruin your own day of watery fun.
Thunder Lagoon Waterpark is often praised for being the best place for younger kids to feel their first theme park thrills. The Viking Ship specifically is praised for being both a rocky yet stable kids' ride with a generous amount of splashing.
Like many waterparks, Thunder Lagoon is only open during the summer season, however, if you purchase a 1-day pass, you are then eligible for 25% off on 2nd day access and thereafter for 50% off on 3rd day access – When the summer season comes about, this is an offer you shouldn't pass up on!
*Disclaimer: Promotions are subject to change

4. Trimper Rides Amusement Park
Though this place is more of a general amusement park rather than a waterpark specifically, there's still a fair amount of high-quality water rides to earn it a place on our list. The other main reason why it's included on this list is due to it being one of the oldest attractions in all of Maryland, having been open since 1890.
The main water ride here is the Tidal Wave Rollercoaster, which takes guests on a thrilling experience as they skim over and shoot through the wettest area of the entire park. For younger riders, there's also a smooth-sailing mini boat ride, in which the rider is seated in a small boat-styled cart and is guided through a small river in a chain with other riders.
Those who are just looking to jump in a pool and have fun with their friends will have an interest in this place as well, as there are separate pools for families, children, and teenagers. All ages can get on board and have fun at Trimper Rides Amusement Park!
5. Chesapeake Beach
We've saved the best until last! Chesapeake Beach is often regarded by both locals and tourists alike as being the greatest waterpark in all of Maryland. Again, keep in mind that with this location we are slightly venturing out of Ocean City, but not far away enough for it to be out of reach.
Chesapeake Beach includes everything that a good old-fashioned waterpark could possibly need. Waterslides, pools, refreshments, season passes, and other deals are all available here.
This is also a good first waterpark for toddlers as you can also sign your child up for swimming lessons – and given how these lessons take place in an amusement park, they'd likely be more inclined to go along with it!
Daily tickets clock in at between $36 to $49 depending on whether or not you are above 48 inches in height and if you are attending on a weekday (Thursday or Friday) or a weekend (Saturday or Sunday). Keep in mind that the park is limited to 30% usual capacity in compliance with COVID-19 regulations, so you may want to book quite far in advance to secure your day here.
*Disclaimer: Prices are subject to change

Overall…
We've explored Ocean City in previous blogs, listing off the best places to rent vehicles for the waterfront and where to dine afterwards. Today we've added to the highlights of this wonderful, secluded corner of Maryland as well as the connections branching off from it.
Remember to spend your money wisely, but also remember to have as much fun as you can – after all, that's what waterparks are about at the end of the day, right?
Looking for Oceanfront Condos in Ocean City, MD? How about an affordable Bayside Interior Condo? You've come to the best website for searching Ocean City, MD Real Estate. Now it's time to choose the right Realtor to meet your needs. Let me put my knowledge and experience to work for you.