The Ultimate Guide to Buying a Condo in Ocean City
Posted by Mitchell David on Sunday, December 27, 2020 at 12:04 PM
By Mitchell David / December 27, 2020
Comment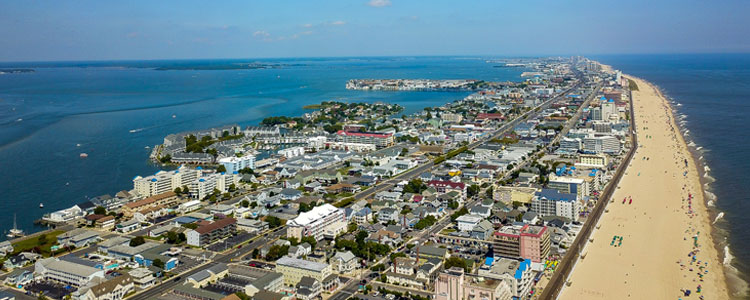 Ocean City in Maryland is a quaint little resort town on the Atlantic Ocean on the eastern shore of the state. The town sees many visitors in the summer months because it's the perfect place for a vacation, and it becomes the second most populated city in the state. From May to August, it's an exciting and vibrant community of endless things to do, nightlife, seaside fun, and adventures. Come September, and it returns to being a hamlet by the beach that is quiet and relaxing. Interested buyers who choose to relocate to this wistful town get the best of both worlds. They can take advantage of the exciting summer months, get in on all the action, and relax the rest of the year in the dreamy town they call home. Buying a condo in Ocean City is an excellent investment. Whether you're purchasing a second home to spend your summers at the ocean, or you want to live there full time, there's a lot to know about owning a condo in Ocean City.
How much of a mortgage can I afford?
Asking yourself how much home you can afford is essential before purchasing any property in any location. Condos in Ocean City can cost anywhere from $150,000 to over $1.5 million, so the options are endless depending on your budget. Determining your price range depending on your income is always the first step in the buying process. Before you start house hunting, get a pre-approval letter from your mortgage broker. You can easily find your dream condo in Ocean City because of the wide range of property types, great locations, and price ranges.
What are condominium resale documents?
Also referred to as condo docs, the condo resale documents are about the condo association. A buyer is required to receive these documents once the sale is under contract, according to Maryland Condominium Law & Delaware Law. These documents include the Declaration & Bylaws, the condo association financials, a copy of the condo building's rules and regulations, any reserves, resale certificate with additional information, and sometimes the condo meeting minutes are included as well. A buyer must sign an Acknowledgement of Receipt of Information once they receive the documents and have read through them. Ocean City condo requires this to be done within seven days of receiving the documents. The buyer has the unconditional right to rescind the offer and contract of sale in writing without reason.
What do the Homeowner's Association (HOA) fees include?
Buying an Ocean City condo means that you'll be part of a Homeowner's Association. The HOA can vary depending on many factors. Depending on the building's size, the amenities, and what it entails, the fees can vary. Each HOA is a bit different from others in what they cover, so it's important to know what is covered before purchasing your home. Typically, homeowners can expect the upkeep of amenities like pools, sports courts, fitness centers, clubhouses, common areas, trash removal, landscaping, and snow removal to be included in the list of covered items. Many HOA's will have specific funds for extensive maintenance or future renovations to the building. Maryland Law states that a buyer has the right of rescission to review HOA resale documents for five days and can rescind without reason with no penalty.
What do condo fees cover?
Just like Homeowner's Association fees, each building will have different condo fees that cover a variety of things. Ocean City condos and Delaware condos typically will have the condo fee cover the building and flood insurance, upkeep of common areas and amenities like the pool, walkways, hallways, elevators, cleaning, water usage, property management fees, etc. There will often be a reserve fund set aside for major repairs and maintenance, emergencies, upgrades, or things like a new roof, new paint, or repaving the parking lot. The condo owners are typically the ones to decide what money goes where, as the condo board includes residents who vote on how to proceed with the funds. Each condo association is different and has different processes, but all of those will be outlined in the condo resale documents that the buyer will get upon the contract being submitted.
What other fees am I responsible for?
While some condo associations may include things like cable and internet, as a new condo owner in Ocean City and Delaware, you can expect to pay your mortgage and property taxes, insurance, gas, electric, sewer, cable, internet, and home phone services. Insurance for your condo is called an HO-6 policy.
What is the difference between financing a primary home versus a second home or vacation condo?
The most significant difference between purchasing your Ocean City condo as your primary residence or your second home is that there are more loan programs available for primary residences. FHA, VA, and USDA are offered for primary residences only and are not applicable to vacation home purchases. Primary home buyers will also be able to put less money down on the purchase, whereas a secondary home requires at least 10% of the purchase price as the down payment. They almost always go with conventional financing.
Does condo size matter?
When it comes to purchasing a condo in Ocean City, the layout is more important than the square footage when it comes to the sale. The number of bedrooms and the number of bathrooms determine how many people can sleep in the condo. It's more important how the space is used rather than how big it is.
Is it better to purchase an oceanfront condo?
This depends on your wants and needs. If you and your family dream of being on the ocean and spend your free time on the boardwalk, choosing one of the many incredible oceanfront options might be best for you. Buildings like Belmont Towers have stunning views of the ocean and overlooks the boardwalk. Other oceanfront high-rises start around 94th street and are quite busy during the summer months if you like the hustle and bustle. If you prefer the beach but not in a popular tourist area, the community of Mid-town might be a better option for you. It runs from 28th Street to 93rd Street, and a very low-density area, like most of the communities in Mid-town. Uptown condos in communities like Montego Bay and Caine Woods have plenty of year-round residents, so it may feel more welcoming, and you may meet a lot of like-minded neighbors. As you'd expect, oceanfront properties are the most expensive, and they have the best rental potential throughout the summer months. Many interested buyers who purchase homes as investment properties have plenty of real estate options in Ocean City. For those looking to generate some rental income and there are no suitable oceanfront condos available, ocean block properties are another great option. The bayside area of the Coastal Highway and Rt 1 has excellent rental opportunities, but they won't be as consistent or as booked solid as oceanfront condos. However, they are close to the ocean and have pools, so that's a great perk.
What kind of neighborhood should I be looking in?
Finding your right Ocean City community depends on your personal preference, your wants and needs, and your lifestyle. Many of the communities in Ocean City are similar in that they're safe and comfortable and close to great amenities. It's essential to choose a community that is in line with your values and close to amenities you love. Asking your local realtor is a great place to start if you don't know much about the area, as they will know the communities inside and out. Conducting your own research by checking out community forums and real estate blogs online is another great resource to start scoping out your future neighborhood.
What amenities should I be looking for?
The amenities you'll enjoy the most depend on your personal preference. It's common to find pools, fitness rooms, parking spaces, sports courts, clubhouses, and restaurants in certain condo buildings, so it's crucial for you to figure out which amenities are must-haves and which you could live without. Depending on if you're a young professional, part of a young family, or you're retiring, and you may want amenities to fit your lifestyle.
What happens if I purchase a condo with rentals booked? Do I need to honor those rentals?
If you happen to purchase an Ocean City or Delaware property that has rentals booked for weeks in advance, you will have to honor those dates prior to moving in. You will always know before the purchase of your home what is booked and when, but this can work out in your favor if you're planning on continuing the space as a rental property. If you plan on the property becoming your primary residence, you can plan around the rentals if there are only a few weeks booked. Purchasing a rental property as your primary residence in Ocean City is better during the off-season, so you're not stuck without your new home for a month or so. Your Ocean City realtor would be able to help you navigate the situation.
What kind of realtor should I work with?
A local realtor that specializes in Ocean City properties is your best choice. Maryland has many policies that have variations and details that only a local professional would know, like the rental endorsement or the loss assessment coverage. Hiring someone who has worked in the town for a long time, that has years of experience will always be worth it for a smooth purchasing experience. Many companies won't write policies on the beach because of contingency plans with the state that prohibit that from happening. Not all agents are aware of these plans, which can compromise the insurance on your property and the sale of the home. If the agent isn't aware of these policies, you won't find out until the settlement date, which can be devastating. Most agents will have one insurance company that they work with that all their sales are good to go, that are reasonably priced,
What kind of mortgage broker should I work with?
Finding a local mortgage broker with experience is a great option. Suppose you have a broker where you live or someone you know and trust is a broker somewhere else in the country, but you may want to find someone in Maryland. Even if you have the down payment, the credit score, and income, but there are policies in Ocean City's coastal real estate market. Due to the number of second homes and vacation rentals, there are certain mortgage products that may or may not allow for the sale of your home or future rental property. It's important to have a mortgage broker who has experience in the Maryland market and knows all the rules.
How should I find a condo inspector?
Once you're ready to purchase your new home in Ocean City, you will be required to have your new place inspected. Inspections in Maryland are to ensure the buyer knows what the property of the new home and if there are any issues that they should know about. Doing a quick Google search will return a long list of inspectors in the area, but ensuring you find an Ocean City-based inspector, you know they're knowledgeable about the area, and they're credible. If you can't find someone that you immediately like, your local Ocean City realtor likely has a few contacts that they have worked with in the past that are affordable.
Buying a condo in Ocean City is a dream come true for most people. Whether you're purchasing a primary residence or a vacation home, there are many things you need to consider before starting your first internet search. Happy house hunting!